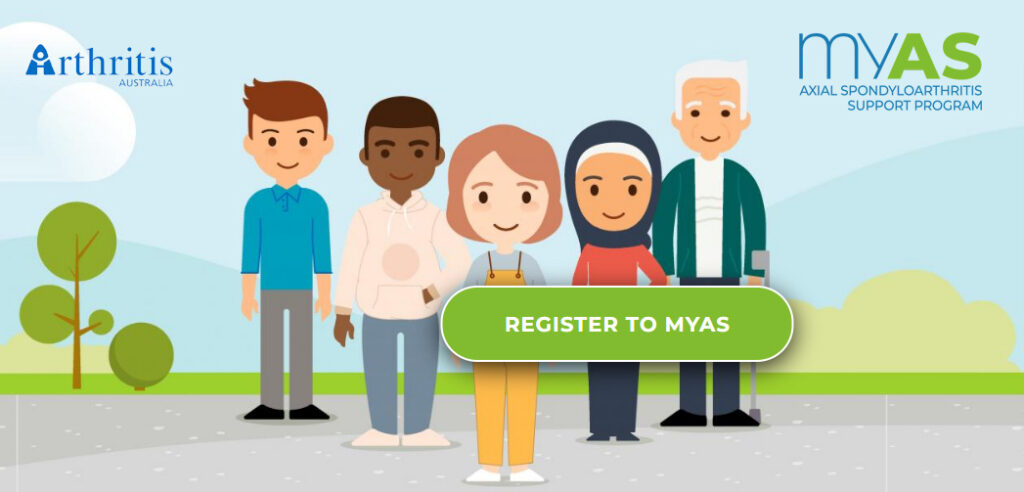 If you live with axial spondyloarthritis/ankylosing spondylitis be sure to check out the MyAS website (myas.org.au), an interactive hub recently launched by Arthritis Australia.
"Axial spondyloarthritis" can be loosely translated as a type of autoimmune arthritis capable of producing "inflammation of the joints and tissues of the spine and pelvis". However, it can also affect the peripheral joints and specific organs.
Axial spondyloarthritis (AxSpA) is the fourth most common form of arthritis, impacting around 1 to 2 per cent of Australians (15 to 40 years old), yet many people have never heard of it. It used to be thought to affect mainly males, but more recent research has since shown that axSpA affects males and females roughly equally.
Diagnosis and Treatment of Axial Spondyloarthritis
Radiographic axial spondyloarthritis (ankylosing spondylitis)
More commonly known as ankylosing spondylitis (AS), this diagnosis is given when damage from sacroiliitis (inflammation of the sacroiliac joints) becomes visible on an X-ray. Although this distinction may seem minor, it can have a significant impact on the time taken for a diagnosis to be reached and on the treatment options available.
Non-radiographic axial spondyloarthritis (nr-axSpA)
If there is no visible sacroiliitis damage on an X-ray but other factors, such as visible inflammation within these joints on a magnetic resonance image (MRI) as well as axSpA symptoms, are consistent with axSpA, a diagnosis is generally given as non-radiographic axial spondyloarthritis (nr-axSpA).
Back pain and stiffness are often the first signs of axial spondyloarthritis but if ignored, affected joints can deteriorate and potentially fuse, leading to severe, often debilitating pain.
There is no cure for axSpA, however, when properly diagnosed, axial spondyloarthritis can be well-managed with the right knowledge and treatment. Jonathan Smithers, Chief Executive Officer of Arthritis Australia, says, "It's vital those living with the condition are diagnosed early so they can be educated on what to expect and how they can manage it with support from their healthcare team. When armed with quality information and treatment options, people can make informed decisions and have a good quality of life."
Regular physical activity and appropriate exercise are essential forms of treatment for axSpA. They help to reduce stiffness and pain, strengthen muscles, maintain good posture and improve sleep and overall health.
Treatment may also include:
Non-steroidal anti-inflammatory drugs (NSAIDs)
Disease-modifying antirheumatic drugs (DMARDs), such as methotrexate and sulfasalazine
Biologic DMARDs (biologics), such as adalimumab and etanercept
Glucocorticoids, such as prednisolone
These medications will work differently for everyone.
About MyAS
The MyAS website has been developed with experts and consumers to ensure information is evidence-based, appropriate and accessible to consumers. It is designed to help people with axSpA understand their condition and empower them to help manage it. MyAS provides information on symptoms, treatment options, working with your healthcare team, managing pain, mental health, and support services.
The website can be viewed by the public, however, to get the maximum benefit from it, you can register for a free, personalised account. Registering enables you to:
Receive recommended content relevant to your experience with axSpA.
Access surveys to help you keep track of how your axSpA is affecting you.
Link to support programs to access information and support on the medication you are taking.
CreakyJoints Australia was happy for Arthritis Australia to adapt information from our Government Support for People With Chronic Illness page for their Financial Services page on the MyAS website.
We believe that it is in the interest of patients for arthritis support organisations such as CreakyJoints Australia and Arthritis Australia to work together and support each other whenever possible.
Keep Reading