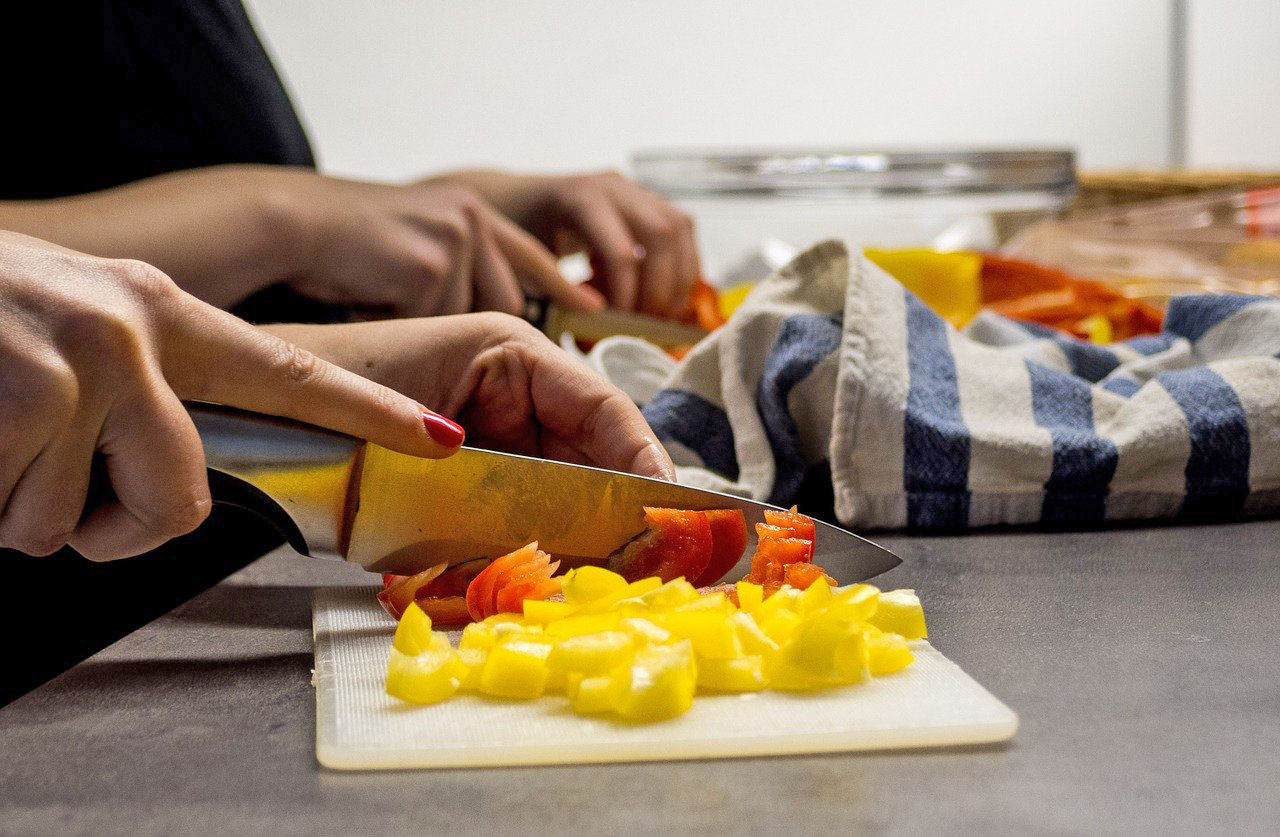 Nicole Black has always loved to cook delicious meals for her family and friends. Whether it was a hearty soup or a decadent cake, Nicole loved being in the kitchen getting creative with ingredients.
However, after developing rheumatoid arthritis, Nicole found it increasingly challenging to do simple tasks like chopping vegetables and mixing batters. Sometimes it was the pain and stiffness in her hands that made things difficult and sometimes it was the deep fatigue and muscle weakness throughout her body.
Nicole didn't want to let all that stop her from cooking, though, so she gradually found ways to make things easier for herself in the kitchen.
Now a member of the CreakyJoints Australia Patient Council, Nicole is passionate about helping others with arthritis. Here, she shares her favourite tips for cooking when you have sore joints and fatigue.
Start With the Right Tools
Nicole believes that it is better to have a few good quality tools that you can use with ease than a lot of tools that you struggle to use because of poor quality or design.
While it may be costly to switch over, Nicole recommends getting the best quality items you can afford a bit at a time. For example, start with one good chef's knife that is made from high-carbon stainless steel or an 'all-rounder' piece from a top-notch saucepan set and add more when your budget allows.
Develop some basic knife skills. (You'll find plenty of easy-to-follow tutorials on YouTube.) These skills will help you to lessen the impact chopping and cutting have upon your hands and body. For example, using a rocking action is often better as you can use the momentum to work more efficiently. You can also buy angled, t-shaped and double-handled rounded knives which can make cutting and chopping motions easier on your hands.
Above all, keep your knives sharp. Blunt knives require more force to use and they can also increase your risk of slipping and cutting yourself.
Other tools Nicole finds indispensable include:
A good quality deep fry pan with a lid that you can cook almost anything in and that doubles as a stove top oven

A lightweight chopping board

A free-standing mixer so you don't have to hold a hand-held beater or blender

A microplane grater/zester

A mandolin for various types of horizontal cutting

Light-weight saucepan sets and other cooking vessels
You can also consider using powered kitchen devices such as electric knives and battery-operated jar openers.
Organise Your Kitchen
The layout of your kitchen can affect how well you work within it. Nicole suggests you review the placement of all the items you use every day and keep them as accessible as possible.
Work out which tools and products you use the most and keep them on your bench, but put them in decorative containers so you don't feel overwhelmed by clutter. For example, measuring cups/jugs, mixing bowls or your tea and coffee.

If possible, use open shelving within easy reaching distance and ensure your benches are built to a suitable height. This is normally around hip height but will vary from person to person.

Consider placing dinner plates at hip height on an open shelf. You may also like to consider using at least one large platter used for entertainment purposes or family grazing along with the dinner plates on your table.

Store your pots on the stove to avoid frequent bending.

Consider utilising other available bench/hip height space. Nicole doesn't have a butler's pantry but has created a bench space over her old cement laundry trough. She uses this space for all her electrical appliances. She can use them in situ or carry them to her kitchen bench.
Rethink Your Physical Movements
Until we develop joint problems, most of us don't give much thought to how we use them. Yet, there are many things we can do to reduce or avoid placing excessive strain on arthritic joints.
Use the largest joints practical for any movement. For example, if your wrist is sore, avoid rotating it when stirring liquids. Instead, keep your wrist and elbow still and use your shoulder to generate a smooth stirring motion. If it is your shoulder that's sore, you may need to reverse this tip. Experiment with different joint movements to see what works best for you.

Remember to use both hands to move full pots and pans.

Engage your core muscles and brace your elbows against your body when lifting heavy items. Also, bend your knees to avoid straining your back.

When filling or emptying large pots of water, use a small cup or jug to transfer the water a bit at a time rather than lifting the heavy pot. You could also place the item on a sturdy trolley or wheeled island bench to move it to where you need it.

Stand on an anti-fatigue mat when cooking or washing the dishes. These cushioned mats are stable enough to stand on, but they reduce the chance of developing muscle fatigue or leg or back pain. Alternatively, sit on a stool or chair while doing long tasks.

Teach your family to serve themselves from the stove top. During times of flare up and pain this can make things easier.

If you can, ask others to help you with your cooking and cleaning, especially with the heavy tasks.
Get a Handle on Things
Having arthritis in your hands can make it very difficult to hold many things, let alone grip them with any strength.
One way to get around this is to buy products with large easy-grip handles. Alternatively, you can adapt your existing items by wrapping the handles with soft cushioning foam or thick rubber bands. You can buy tubes of foam from daily living aid suppliers and cut it to fit over items such as cutlery handles.
Double handles on items like saucepans and mugs also makes them easier and safer to hold.
Consider looping a scarf around your cupboard and refrigerator doors. To open them, simply slip your arm through the loop and use your body weight to pull the door open.
Nicole loves a good cup of tea but she finds full mugs can be too heavy to lift. Her solution is to enjoy her tea in fine china teacups. Nicole now only buys with weight in mind and looks for light-weight mugs, drinking glasses and crockery.
Food Preparation Tips
You can spare yourself some pain and fatigue by pacing yourself in the kitchen and planning and preparing ahead as much as possible. These tips will all help on days when you find yourself in the middle of a flare up or your fatigue levels are high.
Use frozen veggies whenever you need to. They are just as nutritious as fresh veggies and can be prepared in a fraction of the time.

Aim to chop veggies or other suitable foods in bulk and freeze your prepared food in portions. 

Buy pre-cut fresh veggies as needed. For example, if serving carrot and celery sticks with dips.

Consider doing large cook-ups and then freezing entire meals.

Keep some pre-packaged frozen meals in the freezer for your off days. These are generally cheaper and healthier than takeaway options.

Buying in bulk may be economical, but smaller packs may be easier to carry. For example, consider buying three 1 litre containers of milk instead of one 3 litre one.
Seek Help From an Occupational Therapist
Occupational therapists (OTs) are trained allied health professionals. They can help you find the best ways to complete your everyday activities (or "occupations"). Occupational Therapy Australia can help you find an OT near you.
OTs can analyse how you move your body and show you alternative movements that place less strain on it. They can look at your home or work environment and suggest amendments to it, such as getting lever taps fitted over your sink.
OT's can also suggest suitable daily living aids and equipment that can make your life with arthritis much more manageable.
Nicole buys her kitchen items and arthritis aids through a variety of sources. For her final tip, she suggests browsing through online marketplace sites, op shops, supermarkets and department stores like Target and Kmart. Watch out for specials from Aldi, especially when they have their annual sale of daily living aids.
You can also shop through specialist daily living aid suppliers such as:
Keep Reading