Patient Guidelines
CreakyJoints Australia is excited to announce a first-of-its-kind document, Raising the Voice of Patients: A Patient's Guide to Living with Rheumatoid Arthritis in Australia.
With the help and guidance of our Patient Council (a group of patient leaders from across Australia and New Zealand), we will be publishing the first comprehensive document that helps all individuals during their RA disease journey.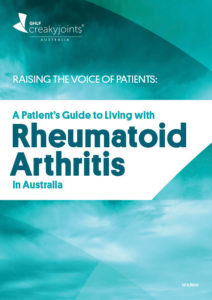 Sign up to be notified when they launch!
We will email you as soon as the patient guidelines are available for download.
These patient guidelines have been developed by patients, doctors and other healthcare providers. It's designed as a roadmap to help you navigate your rheumatoid arthritis treatment journey and to help you access the help you need and deserve.
It offers detailed explanations of:
Symptoms and their causes.
Treatment plans.
Treatment options.
Integrated and alternative medicines and therapies.
Diet and exercise advice.
Tips on how to talk to your family and friends about RA and how it impacts your life.