Biosimilars (Available for infliximab, rituximab, etanercept and adalimumab)
There's another option that is now available to treat inflammatory arthritis: biosimilar medications. You may have seen this term in the news, or even heard your doctor or nurses mention it. Biosimilars work the same way as biologics, but they are created and approved for use in different ways.
What Are Biosimilars?
As original biologic brand patents expire, very close copies of these (known as biosimilars) are now coming onto the market. However, they are not like tablet-form generic medications (which are 100 per cent identical to the original brand-name medication). Biosimilars use the research already completed by the reference biologic manufacturer and build on this, so they require comparatively less time and clinical trial data to receive approval.
This means they are more cost-effective to produce than the reference biologic (sometimes called the original biologic or originator) medication, so they will generally provide a cost-saving to the Australian Government. The cost savings allow the government to invest in other areas of the healthcare system.
Consumers are expected to benefit from the increased range of treatment options available to them. However, both biologics and biosimilars are supplied at a fixed rate to consumers through the Pharmaceutical Benefits Scheme (PBS).
(See our biologics page for more details on the difference between biologic and biosimilar medications.)
Are Biosimilars Safe To Use?
All biosimilars have to meet the same standards of safety and efficacy as any other prescription medication approved by the Therapeutic Goods Association (TGA). Biosimilars made by different manufacturers can safely differ very slightly from the original product and from each other.
How Will I Take My Biosimilar?
Biosimilars are taken in the same way as their reference biologic (including how they are used before, during and after pregnancy). They have the same possible side effects, contraindications and monitoring tests.
Which Biosimilars Are Available in Australia?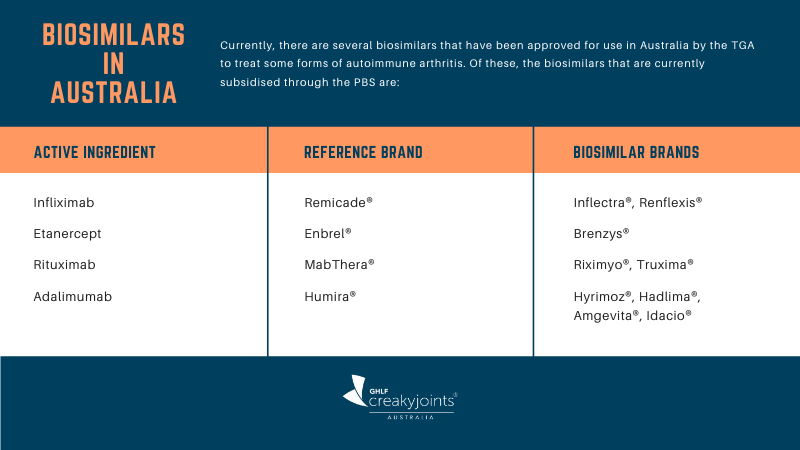 For a full list of biosimilars currently available, see the Australian Government Department of Health web page Which biosimilar medicines are available in Australia?
'A' Flagging of Biosimilars
Once approved, biosimilars have registered (®) brand names of their own. Also, from 1 February 2021 most new medicine prescriptions must now include the active ingredient and, if needed, a prescriber may also include the medicine brand name, which will appear after the active ingredient information.
For example, if your rheumatologist prescribes adalimumab for you, they may choose to include one of the following brand names after the active ingredient name; Humira®, Hyrimoz®, Hadlima®, Amgevita® or Idacio®.
Just as brands of synthetic medications can be substituted with their generic counterparts, so too can reference brands of biologics be substituted with their equivalent biosimilars at pharmacy level, without checking with the prescriber. This process is known as 'A' flagging.
As a result, when you take your prescription to the pharmacy, you could be given either the reference biologic or the biosimilar equivalent without you or your doctor being told unless your prescribing doctor has ticked the 'Brand Substitution not permitted' box at the top of the prescription. If your doctor has ticked this box, your pharmacist must dispense the brand specified on your prescription (either the biologic or the biosimilar).
About Switching Biologics And Biosimilars
There are three ways you can be prescribed a biosimilar medication:
If you have not previously been treated with a biologic medication and there is an approved biosimilar, your treating doctor may prescribe either the reference biologic medication or its corresponding biosimilar.

If you have been treated with a biologic medication from a specific

classification

(such as a TNFi biologic) and that medication did not work well for you, you could be prescribed a biosimilar from a different classification. For example, if you had tried MabThera® (rituximab) for rheumatoid arthritis and it did not work for you, your doctor may prescribe Brenzys® (etanercept) for you instead.

If you have been treated successfully with a biologic medication, your doctor can switch you from the reference biologic to its biosimilar, or between biosimilar brands of the same reference medication.
Studies have shown that there is no increased safety risk to patients when switching between biologics and biosimilars. However, it is important that you and your rheumatologist discuss what medication you have been prescribed, or are about to be prescribed, so you have all the information required for when you get your prescription filled.
All biologic and biosimilar pharmaceutical companies offer patient support programs that you can access for free. They generally include a welcome pack with information on how to use their injection devices plus access to a nurse to help you with this if needed and ongoing support and resources. Many include information about their support programs on their product packaging. You can also ask your rheumatologist or pharmacist to help you access the relevant program.
Arthritis treatment information is also included in all editions of the CreakyJoints Australia Raising the Voice of Patients series. Learn more or download your free copy of A Patient's Guide to Living with Rheumatoid Arthritis in Australia or A Patient's Guide to Living with Axial Spondyloarthritis in Australia today.
For more information about biosimilars, the Therapeutic Goods Administration (TGA), Pharmaceutical Benefits Scheme (PBS) and much more, listen to the relevant episodes of our Patient PrepRheum podcast series or read the transcriptions attached to each episode.