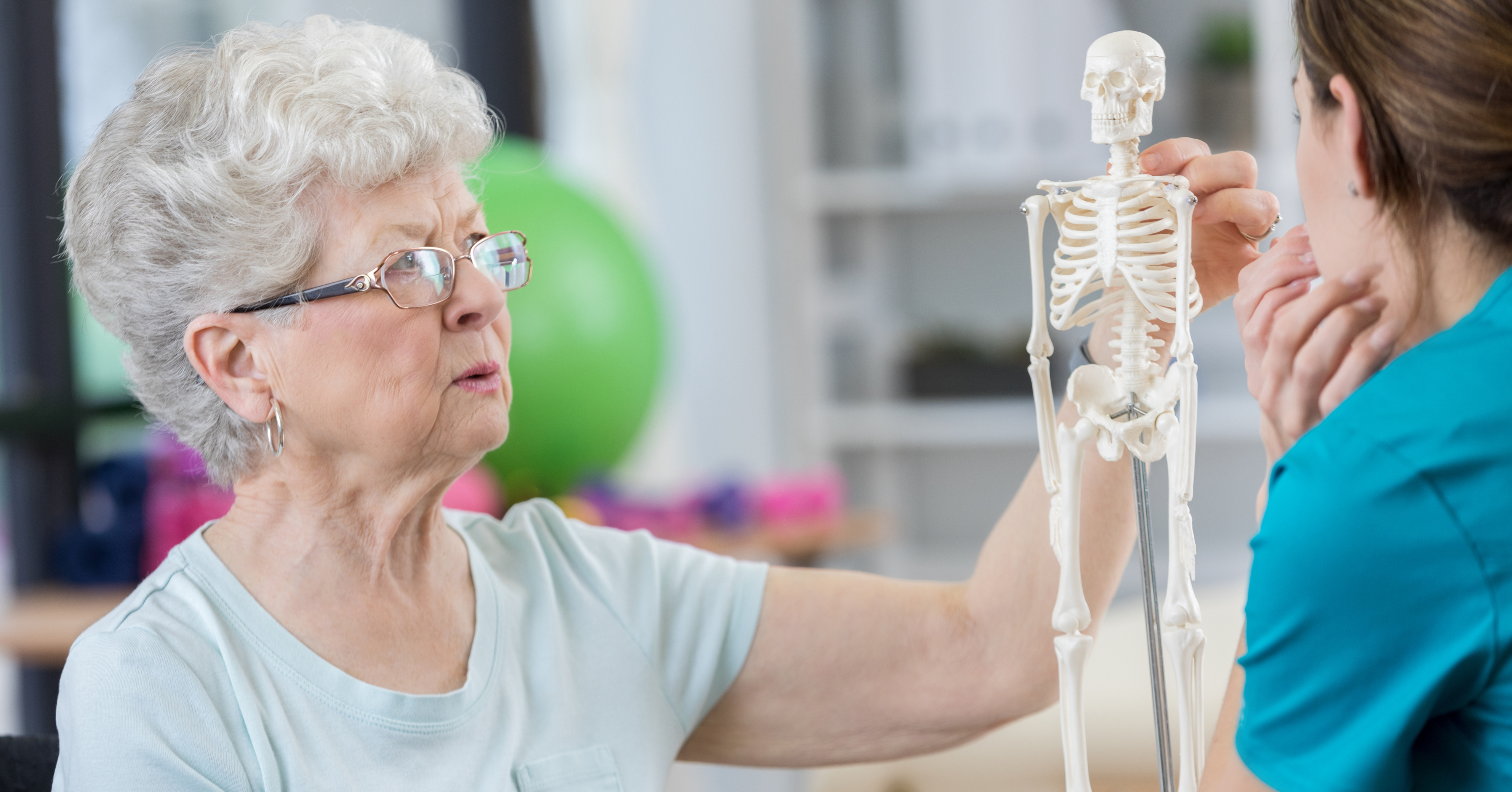 "Osteoporosis is a silent disease — until it's not," says endocrinologist Jessica Rachel Starr, MD, an Assistant Attending Physician at Hospital for Special Surgery, New York. She explains that osteoporosis just means that the natural holes or pores in our bone are bigger than they should be on a bone density test.
"When they get bigger beyond a certain pre-defined score, we call it osteopenia," says Dr Starr. "And when it gets even bigger than that, we call it osteoporosis. But just having those holes in the bone and having them be large is painless."
But here's the thing: even if you don't feel it now, the risks are real. When these holes or pores get bigger, your bones get more fragile, your muscle mass diminishes and your risk of falls and fractures increases.
While osteoporosis alone isn't life-threatening, it can result in significant fractures, leading to premature death in approximately 20 per cent to 40 per cent of affected individuals following an injury.
The good news: understanding osteoporosis, its treatments and methods of prevention can ensure healthier bones and a more resilient skeletal system.
Understanding Osteoporosis and Healthy Bones
Our bones are dynamic structures, continuously breaking down and rebuilding. "Our body is constantly remodelling, even as adults we're always building bone and breaking bone down," says Dr Starr.
However, when there's an imbalance in the process — more bone being lost than being built — conditions like osteoporosis can develop. This imbalance can be influenced by numerous factors, including aging, a low body weight, decreased levels of sex hormones, smoking and the use of certain medications like corticosteroids.
Ensuring strong bones requires attention at all stage of life. Osteoporosis isn't just an issue confined to older individuals. An increasing number of people in their 20s, 30s and 40s are receiving diagnoses. In 2020-21, 889,400 Australians (3.6 per cent) of all ages had osteoporosis, with females being more likely than males (5.9 per cent compared with 1.1 per cent) to be diagnosed.
While immediate medical treatment may not be necessary for every diagnosis, especially in younger, fit individuals with milder forms of osteoporosis, it's essential to engage in an open conversation with healthcare providers about steps to fortify bones and prevent fractures.
"Doing something is better than doing nothing," says Dr Starr. "If someone promises me they'll attend physical therapy for strength training and take some calcium, it's still a step forward from when I first met them at the door where they weren't doing those things."
Treatment Options for Osteoporosis
In addition to lifestyle and dietary changes, you and your treating doctor may consider the following osteoporosis medications.
Anabolic agents: These medications stimulate bone formation and are recommended for those who have sustained fractures while on anti-resorptive therapy.
Anti-resorptive drugs: These medications prevent bone loss by blocking the action of osteoclasts, cells that break down bone tissue. In Australia, they are generally used as a first-line treatment.
Bisphosphonates: This group of drugs are available as oral pills or IV infusions and work by reducing bone loss and enhancing bone density. Options include risedronate, alendronate and zoledronic acid.
Menopausal hormone therapy (MHT, previously known as HRT): Though not recommended as a preventive or treatment measure for osteoporosis in menopausal women, it can bolster bone health in women taking it for menopausal symptom relief. MHT may be considered for women less than 60 years of age who are at risk of bone density decline and osteoporosis.
Parathyroid hormone (PTH): This treatment involves hormones that promote bone formation and reduce bone resorption. Teriparatide can be prescribed for individuals with a high fracture risk, those who haven't responded to other osteoporosis treatments or those who've experienced side effects from other medications.
Parathyroid (PTH1) agonists: Denosumab is an injectable medication designed for individuals at fracture risk in Australia. It increases bone formation and decreases bone resorption.
Selective oestrogen receptor modulators (SERMS): Raloxifene has bone-protective, oestrogen-like effects without the associated risks of MRT.
Sclerostin inhibitors: Romosozumab promotes bone formation and aids in reducing resorption. It is available in Australia for those with a very high fracture risk and meet other specific criteria.
Supplements and Dietary Choices for Bone Strength
Diet plays an instrumental role in ensuring bone health, with certain foods naturally rich in bone-boosting nutrients. Daily intake of calcium and vitamin D are also important as they are crucial for building strong bones earlier in life and preserving bone strength as we age.
Why calcium?
An essential mineral, calcium has been clinically proven to improve bone density at the spine and the hip, says Dr Starr. However, humans aren't efficient at absorbing calcium, so in addition to a supplement, it's importance to incorporate calcium-rich foods into your diet. Sources include dairy products, kale, bok choy, sardines, tuna, chia seeds, sweet potatoes and figs.
The role of vitamin D
This nutrient helps aid calcium absorption. "If you have vitamin D deficiency, it will be very hard for the body to effectively absorb the calcium," says Dr Starr. "And if your vitamin D gets low enough and you can't absorb the calcium, your body will start breaking down the bone to put more calcium into the blood."
Other supplements
"There's a lot out there about boron, magnesium and vitamin K," says Dr Starr. "But there isn't good randomised controlled trial evidence where I would feel comfortable saying to people, yes, go out there and buy this."
When shopping for supplements, Dr Starr stresses opting for products with the United States Pharmacopoeia (USP) seal, which ensures quality, purity and safe manufacturing processes. (In Australia, see the Australian Register of Therapeutic Goods website).
Before starting any supplement, consult with a health care professional to ensure it's right for you and does not interfere with any other medication you are taking.
The main takeaway: Good bone health is about more than just medicine. It means understanding your body, getting the right nutrients, staying active and talking with your doctor to ensure proper screening and the appropriate treatment for your age and stage.
This article has been adapted, with permission, from a corresponding article by Susan Jara on the CreakyJoints US website. Some content may have been changed to suit our Australian audience. The original article was made possible with support from Amgen.
---
Boost Your Bones!
Did you know there are foods that can help strengthen your bones? Learn about food options for optimal bone health and visit us at StrongBonesAndMe.org.
---
Tell Us About Your Experiences with Osteoporosis Diagnosis and Management
People with arthritis may also have (or be at risk of developing) osteoporosis. However, many of these people are not aware of the link between the conditions or how to treat osteoporosis. You can help shape our future content on these topics by completing our mini survey. Thank you.
---
Join the CreakyJoints Australia Community
Becoming a CreakyJoints Australia member takes just a few minutes. You'll receive our members' e-newsletter featuring:
Reliable information about arthritis types and treatments.
Tips for managing daily life with arthritis and related conditions.
Personal stories from people living with similar conditions to you.
Links to our podcasts featuring interviews with health clinicians and patients.
Surveys to help us discover what's important to you.
---
Follow us on Facebook
We set up our CreakyJoints Australia Community group on Facebook to share our latest news, feature articles, arthritis resources and other content with you. We invite you to provide feedback on any of our posts and chat with each other in the comments. You are also welcome to share ideas about the content you would like us to create or share practical tips for living with arthritis and related conditions.
---
Keep Reading