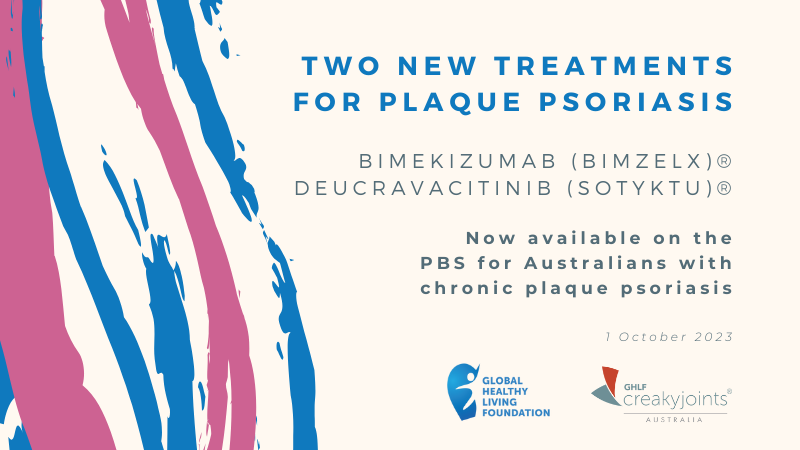 Australians with severe chronic plaque psoriasis (CPP) currently have access to several advanced medications through the Pharmaceutical Benefits Scheme (PBS). These medications are classified as disease-modifying antirheumatic drugs (DMARDs) and they can be prescribed when other forms of treatment have not helped. Two new treatments, deucravacitinib (Sotyktu®) and bimekizumab (Bimzelx®) were added to the PBS for people with CPP on 1 October 2023.
What is Chronic Plaque Psoriasis?
Psoriasis is known for the symptoms you see on the skin, but this condition runs deeper than that. It is an autoimmune disease that occurs when the immune system starts attacking healthy cells — usually skin cells — instead of targeting foreign bodies like bacteria and viruses.
What sets psoriasis apart from typical rashes are the thick white or silvery patches that are the classic tell-tale marker of a type of psoriasis called plaque psoriasis. These plaques (also called lesions) usually show up on the elbows, knees and scalp, but they can appear anywhere on the body. Plaque psoriasis occurs in 90 per cent of people affected by the condition.
Plaques can occur on different parts of the body including the face, scalp, hands and feet, groin, skin folds and nails. They can be very dry, cracked and itchy but scratching can cause them to bleed. They vary from mild patches in a few spots to severe cases that cover most of the body.
There is currently no cure for psoriasis but it can be well-managed with appropriate proven treatment.
What is Deucravacitinib?
Deucravacitinib is a tyrosine kinase 2 (TYK2) inhibitor and is part of a group of medicines called janus kinase (JAK) inhibitors. These fall under the general family of disease-modifying anti-rheumatic drugs (DMARDs). While other oral DMARDs work by suppressing the whole immune system, TYK2 inhibitors work by interrupting the cellular signalling that contributes to the formation of psoriatic lesions.
Deucravacitinib is the first once-daily, oral, TYK2 inhibitor used to treat chronic plaque psoriasis. It can only be prescribed for people whose CPP has significantly interfered with their quality of life.
The introduction of deucravacitinib will not alter the current clinical management pathways in Australia. Rather, the introduction of deucravacitinib will provide eligible adult patients with another oral treatment option before needing to try a biologic DMARD. For example, people with CPP who cannot use methotrexate or who have not had an adequate response to it and are not on a biologic therapy may be eligible to try deucravacitinib.
Deucravacitinib can be prescribed by a dermatologist or an accredited dermatology registrar in consultation with a dermatologist. General practitioners can continue prescribing deucravacitinib but they cannot initiate treatment.
What is Bimekizumab?
Bimekizumab is a biologic DMARD which means it is grown from biologically sourced cells. Biologics have very large molecular structures compared to those of tablet-form medications so they cannot be processed through the digestive system. Instead, they are injected or infused into the bloodstream.
Bimekizumab works by selectively inhibiting the excessive production of cytokines IL-17A and IL-17F (proteins that manage inflammation in the body as part of the normal immune system process).
Other psoriasis treatments already target IL-17A but bimekizumab is the first biologic to target both IL-17A and IL-17F. This double action has proven to be very effective in managing CPP. Bimekizumab is injected under the skin once every four weeks to week 16 and once every eight weeks after that.
Bimekizumab can only be prescribed by a dermatologist. To qualify for access through the PBS, patients must have had severe chronic plaque psoriasis lesions for at least six months from the time of initial diagnosis and have not had an adequate response from at least two other forms of equivalent specified treatments.
What Does This Mean for Australians with CPP?
It is important for people living with CPP to have access to a variety of treatments as we all respond to them differently. What works wonders for one person might have no effect on someone else. The way treatments enter the body can also play a role in how well they work for individuals. The more options people with psoriasis have, the more likely they are to find a treatment that keeps their condition in check and helps improve their quality of life.
Note: This information should never replace the information and advice from your treating doctors. It is meant to inform the discussion that you have with healthcare professionals, as well as others who play a role in your care and wellbeing.
This article has also been published on our Global Healthy Living Foundation Australia website.
---
Join the CreakyJoints Australia Community
Becoming a CreakyJoints Australia member takes just a few minutes. You'll receive our members' e-newsletter featuring:
Reliable information about arthritis types and treatments.
Tips for managing daily life with arthritis and related conditions.
Personal stories from people living with similar conditions to you.
Links to our podcasts featuring interviews with health clinicians and patients.
Surveys to help us discover what's important to you.
---
Follow us on Facebook
We set up our CreakyJoints Australia Community group on Facebook to share our latest news, feature articles, arthritis resources and other content with you. We invite you to provide feedback on any of our posts and chat with each other in the comments. You are also welcome to share ideas about the content you would like us to create or share practical tips for living with arthritis and related conditions.
---
Keep Reading
Sources
Interview with 
Laurie J. Ferguson
, PhD, licensed clinical psychologist specializing in chronic illness, certified coach, ordained minister.
Interview with Sanam Hafeez, PsyD, neuropsychologist, Director of Comprehend the Mind, and faculty member of Columbia University in New York City.
Interview with Haley Perlus, PhD, psychologist specializing in mental toughness, health and wellness coach, author, and Adjunct Professor at the University of Colorado.