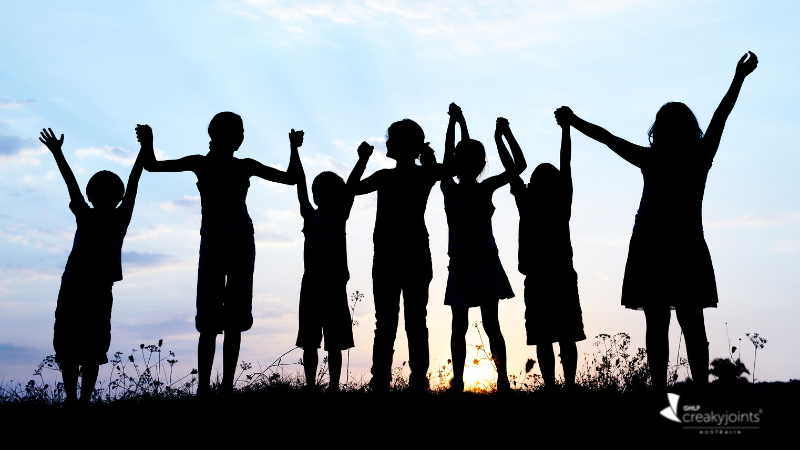 Juvenile arthritis is a chronic autoimmune condition that affects approximately one in every 1,000 children in Australia. Despite its prevalence, juvenile arthritis is often misunderstood and misdiagnosed, leading to delays in treatment and a significant impact on the lives of affected children and their families.
To raise awareness of this condition and improve care for those affected, the Juvenile Arthritis Foundation of Australia (JAFA) recently launched the first Australian Juvenile Arthritis Awareness Week. The aim of this event (held from 18 to 25 March 2023) is to educate the public about juvenile arthritis and the challenges faced by those living with the condition.
This week also saw the launch of the Australian Juvenile Arthritis Registry (AJAR) at the Australian Parliament House in Canberra. The registry is the result of a collaboration between JAFA, the Australian Rheumatology Association and the Australian Arthritis and Autoimmune Biobank Collaborative (A3BC).
Juvenile Arthritis Causes, Symptoms and Treatments
Juvenile arthritis (also known as juvenile idiopathic arthritis or JIA) is a general term used to describe several types of autoimmune arthritis in children with onset before age 16 (including babies). It is part of a broader group of childhood rheumatic diseases (CRDs). Some children grow out of their condition but many will have arthritis for life.
Autoimmune arthritis occurs when the body's immune system attacks its own cells and tissues. Like other autoimmune conditions (such as type 1 diabetes and psoriasis) there is no known cause. However, a person may be more susceptible due to certain gene mutations or environmental factors, such as viruses, that trigger the disease.
Physical symptoms can include painful and inflamed joints, rashes, stiffness and fatigue. Children may also experience anxiety and even depression due to the stress of regular medical appointments, persistent pain, missing out on fun things with their friends and the social stigma of being different.
Diagnosis can sometimes take many months as symptoms can come and go or they may mimic symptoms of other conditions. Delays are often compounded by a lack of awareness of juvenile arthritis, even among health professionals. Children risk developing joint deformities and loss of vision if not diagnosed early and treated effectively.
CreakyJoints Australia National Coordinator, Naomi Creek, developed juvenile arthritis when she was 12 years old. At that time, treatment was limited to medications such as aspirin, cortisone, anti-inflammatories and, later, methotrexate. Naomi and her family did not have the same access to information and support we have today so they did the best they could.  Naomi's joints deteriorated quickly and she had knee and hip replacements when she was in her 20s. Now, she has had nine joint replacements and is a passionate arthritis advocate.
"It was a lonely time back in 1982 when I was diagnosed with JIA. There was very little information available for managing my condition and a lot of uncertainty about my future. Things have come a long way since then. We now have extremely effective medicines to slow joint damage and so many wonderful resources for learning to live well with conditions like JIA. But there is still much to do in finding a cure for this terrible disease, so its very exciting to see initiatives like the Australian Juvenile Arthritis Registry (AJAR). The more pieces of the puzzle we can put together, the closer to a world without arthritis we get." Naomi Creek
An Australian First for Research into Juvenile Arthritis
The Australian Juvenile Arthritis Registry is a national project that was established as a way to gather meaningful data on factors such as the prevalence of childhood rheumatic diseases and the social and financial impacts they have on the wider community.
This knowledge will help us better understand the needs of children with arthritis and their families. It will also give organisations like JAFA, CreakyJoints Australia and other arthritis patient organisations concrete evidence to use when lobbying for more research, treatments and support services.
How to Participate in the Australian Juvenile Arthritis Registry
Participation in this registry is voluntary. Adult participants aged 18 years or older can enrol themselves. Child participants under the age of 18 must be enrolled by their parent/guardian.
By choosing to participate, you will help to support ongoing research into childhood rheumatic diseases and increased services and treatments for Australian children with juvenile arthritis and their families.
See the A3BC website for more information about the Australian Juvenile Arthritis Registry.
The enrolment page for self-referral into the registry will open from 1 April 2023.
Sources
Australian Institute of Health and Welfare – Chronic musculoskeletal conditions: Juvenile arthritis https://www.aihw.gov.au/reports/chronic-musculoskeletal-conditions/musculoskeletal-conditions/contents/arthritis/juvenile-arthritis
Join the CreakyJoints Australia Community
Becoming a CreakyJoints Australia member takes just a few minutes. You'll receive our members' e-newsletter featuring:
Reliable information about arthritis types and treatments.
Tips for managing daily life with arthritis and related conditions.
Personal stories from people living with similar conditions to you.
Links to our podcasts featuring interviews with health clinicians and patients.
Surveys to help us discover what's important to you.
Click here to register.
Keep Reading