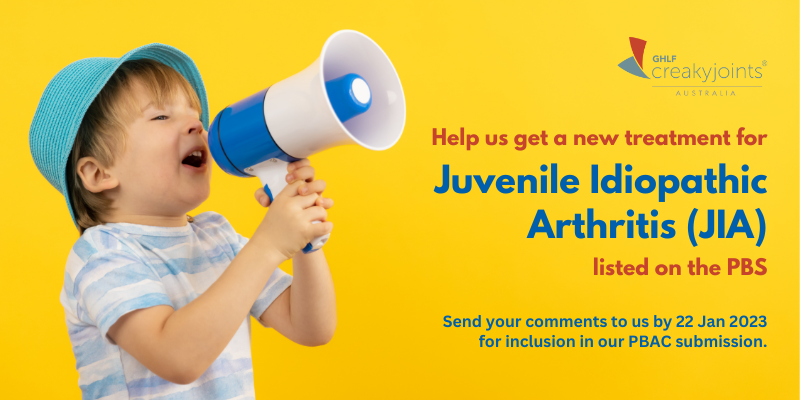 Australian children with severe juvenile idiopathic arthritis (JIA) currently have access to three PBS-subsidised biologic systemic therapies including adalimumab, etanercept and tocilizumab. These treatments are available as subcutaneous injections and tocilizumab can also be administered intravenously.
However, a new oral treatment option, tofacitinib, is currently being considered for listing on the Pharmaceutical Benefits Scheme (PBS) and we need your help to get it approved.
What is Juvenile Idiopathic Arthritis?
Juvenile idiopathic arthritis is a chronic and painful autoimmune condition that affects around 6,000 Australian children. There is no known cause for JIA but it can be triggered after the child has a virus or infection. After the original condition has passed, the immune system fails to revert to normal. Instead, it mistakenly starts to attack healthy cells in the joints and connective tissues.
There are several types of JIA, determined by the number and location of affected joints.
Common symptoms of JIA include:
Joint pain, inflammation, tenderness and stiffness, often in the hips, knees, fingers and toes — though it can affect any joint in the body.
Inflammation of the eyes (uveitis).
Persistent fatigue, poor appetite or fevers
Skin rashes
Symptoms can come and go, sometimes for extended periods. In some cases, they disappear as the child gets older. However, some children continue to have JIA symptoms throughout their lives.
Having autoimmune arthritis at an early age can impact the child's bone development and potentially stunt their growth. Children with JIA are also less likely to participate in physical activity due to their pain and fatigue. This can have lasting negative effects on their physical and mental health and social engagement.
How is JIA Treated?
JIA needs to be diagnosed and treated as soon as possible to decrease the likelihood of long-term joint damage and to improve the child's quality of life. Treatment varies depending on the type and severity of the child's symptoms.
Initial treatment may include oral or topical painkillers and anti-inflammatories. If these aren't enough, the child may be prescribed corticosteroids or disease-modifying antirheumatic drugs (DMARDs), such as methotrexate. DMARDs suppress the immune system and help to slow disease progression while the other treatments mentioned here help to manage symptoms. Physical therapy and a healthy diet also help support the child's normal growth and development.
Children with severe JIA may be prescribed more advanced treatments known as biologics. These are types of DMARDs that are made from live cells and target specific parts of the immune system. They cannot be processed through the digestive system so they are delivered into the bloodstream by injection or infusion regularly. Adults who use biologics usually self-administer their injections but parents often have to inject their children, which can be traumatising for some.
What is Tofacitinib?
Tofacitinib (Xeljanz®) is a different kind of advanced treatment categorised as a janus kinase (JAK) inhibitor. JAK inhibitors also target parts of the immune system but they are made from synthetic chemical compounds and are taken as oral tablets.
They are DMARDs but they are not biologics. However, they are grouped with biologics to streamline distribution through the Pharmaceutical Benefits Scheme (PBS) in Australia.
JAK inhibitors (including tofacitinib) are already available on prescription in Australia for adults with some forms of autoimmune arthritis (such as rheumatoid arthritis).
Until now, JAK inhibitors have not been available here for children or adolescents less than 18 years old. We would like to see that changed as they would be a game-changer for many children (and their parents) who don't like needles or prefer the convenience of taking tablets over injecting medication.
Tofacitinib also proves a new treatment option for those who have not had an adequate response to other advanced treatments.
The Pharmaceutical Benefits Advisory Committee (PBAC) will be meeting in March to decide whether or not to make tofacitinib available on the PBS. If approved, it will be available for people less than 18 years old who have been diagnosed with JIA and are being treated by a paediatric rheumatologist or undergoing treatment under the supervision of a paediatric rheumatology treatment centre.
What We'd Like You to Do
The PBAC welcomes submissions from patients, carers, health professionals, consumer groups or organisations and members of the public on medicines submitted for PBAC consideration.
CreakyJoints Australia would like to collate your comments into a single submission and send it to the PBAC on your behalf. Your comments can respond to any or all of the following questions:
What is the impact of JIA on your/your child's life? Try to be as specific as possible including impacts on the child's everyday activities, school, family, friends, and mental and emotional health.
How well does the current treatment work for your/your child's JIA symptoms? Do you/they experience side effects from it?
What do you see as the advantages of this proposed medicine? For example, what impact could it have on your/your child's condition or quality of life?
Would it help you/your child to have access to a new form of advanced treatment? Why or why not?
What do you see as the main disadvantages of this proposed medicine?
You are welcome to provide any additional comments you would like the PBAC to consider.
How to Submit Your Comments to Us
Please send your responses to us by:
Typing your comments into a Word document and attaching that to your email OR
Typing your comments directly into your email.
Your comments can be as simple as a few bullet points or as long as two or three paragraphs.
Please email your comments to Rosemary Ainley at rainley@creakyjoints.org.au no later than 5 pm on Sunday 22 January 2023.
We will collate your replies into a single submission and send it to the PBAC on your behalf.
If you wish to make your own submission directly to the PBAC you can do so by going to https://ohta-consultations.health.gov.au/ohta/pbac-march-2023/
Kind regards,
The CreakyJoints Australia team
Keep Reading
Source
University of Sydney. News: Research to improve the lives of children with juvenile arthritis. 1 June 2022. https://www.sydney.edu.au/news-opinion/news/2022/06/01/research-to-improve-the-lives-of–children-with-juvenile-arthrit.html