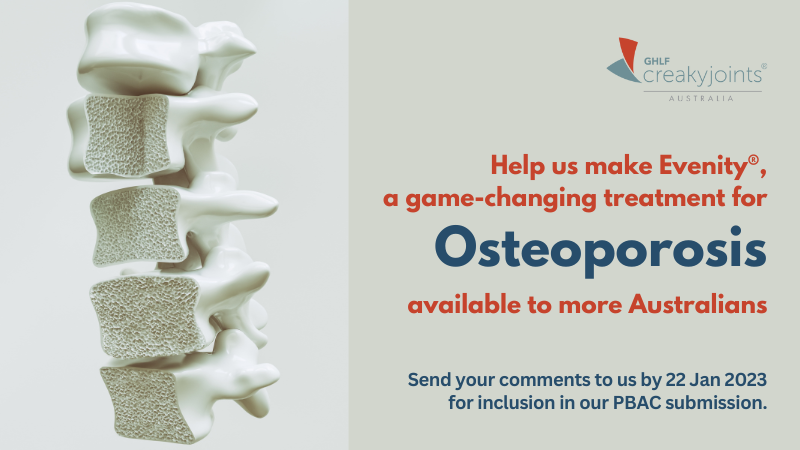 Our bones are living tissues that constantly break down and rebuild. As we age, the rebuilding rate slows down and can't keep up with the break down (resorption) rate. This is called osteoporosis. It causes the bones to become less dense (more fragile) and prone to fractures, especially in the hips and vertebrae.
Osteoporosis usually has no symptoms in its early stages. However, as the condition progresses, you might have signs and symptoms that include:
Back pain, caused by a fractured or collapsed vertebra
Loss of height over time
A stooped posture
A bone that breaks much more easily than expected
Osteoporosis is diagnosed with a bone density (or DEXA) scan of the skeleton. The results of the scan are measured by a bone mineral density (BMD) T-score and if a T-score is -2.5 or lower, a diagnosis of osteoporosis is confirmed.
In 2020-21, 889,400 Australians (3.6 per cent) of all ages had osteoporosis, with females being more likely than males (5.9 per cent compared with 1.1 per cent) to be diagnosed.
Risk factors include (but are not limited to) your age, race, hormone levels, lifestyle choices, and medical conditions (such as autoimmune arthritis or diabetes) and treatments (such as glucocorticoids).
How is Osteoporosis Treated?
Osteoporosis can't be cured but can be well-managed through a combination of medications, bone-strengthening exercises and other lifestyle changes.
In Australia, the condition is initially treated with an antiresorptive drug or other drugs that slow down the natural bone density loss process. If people sustain two or more fractures while receiving antiresorptive therapy (ART) or one fracture with a decline in bone density for more than 12 months (or other specific criteria), they may qualify for a second line of treatment with a bone-building (anabolic) drug.
Romosozumab (Evenity®) is the only osteoporosis treatment that both increases bone formation and decreases bone resorption. It is administered by subcutaneous injection once per month for 12 months, followed by regular, ongoing treatment with an antiresorptive drug.
The suppliers of romosozumab now have strong clinical evidence showing that anabolic therapy leads to faster and more effective protection from fractures than ART – and, crucially, that the anabolic effect on bone mass and skeletal structure is most pronounced when used first-line.
Romosozumab and the Pharmaceutical Benefits Scheme
Romosozumab is currently only available through the Pharmaceutical Benefits Scheme (PBS) for people with severe osteoporosis as a second-line therapy. However, the Pharmaceutical Benefits Advisory Committee (PBAC) is currently considering making romosozumab available as a first-line therapy for people with a very high, imminent risk of fracture who need immediate treatment.
The PBAC is also considering making romosozumab available to a wider range of people as a second-line treatment. These proposed changes are:
Time on therapy. Currently, a patient must have had a fracture after at least 12 months of ART before qualifying for second-line romosozumab. There would be no duration of ART requirement under the proposed expanded listing.
Number of fractures. Patients with osteoporosis who experience their first fracture while on ART currently need to experience a second on-treatment fracture before qualifying for second-line romosozumab. The proposed listing would allow patients to qualify for romosozumab after just one fracture if it is a fracture at the hip or a symptomatic vertebral fracture.
BMD T-score. The current BMD T-score threshold of -3 most commonly restricts access to anabolic therapy. Patients who fracture on ART and have an osteoporotic BMD are at sufficiently high fracture risk to warrant treatment with an anabolic agent. By increasing the BMD T-score threshold from -3 to -2.5 more patients at very high risk of another fracture will be able to access anabolic therapy, which has the greatest probability of restoring skeletal structure and normalising BMD.
These proposed changes will be considered at the March 2023 meeting of the PBAC and we need your help to get it approved.
What We'd Like You to Do
The PBAC welcomes submissions from patients, carers, health professionals, consumer groups or organisations and members of the public on medicines submitted for PBAC consideration.
CreakyJoints Australia would like to collate your comments into a single submission and send it to the PBAC on your behalf. Your comments can respond to any or all of the following questions:
What is the impact of osteoporosis on your life? Try to be as specific as possible including impacts on your everyday activities, work, family, friends, and mental and emotional health.
How well does the current treatment work for your osteoporosis? Do you experience side effects from it?
What do you see as the advantages of this proposed medicine? For example, what impact could it have on your condition or quality of life?
Would it help you to have access to a new form of treatment? Why or why not?
What do you see as the main disadvantages of this proposed medicine?
You are welcome to provide any additional comments you would like the PBAC to consider.
How to Submit Your Comments to Us
Please send your responses to us by:
Typing your comments into a Word document and attaching that to your email OR
Typing your comments directly into your email.
Your comments can be as simple as a few bullet points or as long as two or three paragraphs.
Please email your comments to Rosemary Ainley at rainley@creakyjoints.org.au no later than 5 pm on Sunday 22 January 2023.
We will collate your replies into a single submission and send it to the PBAC on your behalf.
If you wish to make your own submission directly to the PBAC you can do so by going to https://ohta-consultations.health.gov.au/ohta/pbac-march-2023/
Kind regards,
The CreakyJoints Australia team
Keep Reading
Source
Australian Bureau of Statistics. Health conditions and risks: Health Conditions Prevalence 2020-21. https://www.abs.gov.au/statistics/health/health-conditions-and-risks/health-conditions-prevalence/2020-21#arthritis-and-osteoporosis