CreakyJoints Australia has joined forces with healthcare advocates around the world to draw awareness to Rare Disease Day®. Celebrated on 28 February (or 29 February in leap years – the rarest day of them all) Rare Disease Day® is an annual awareness day dedicated to raising awareness and educating decision makers, medical professionals and the public about the needs of people living with rare diseases.
Statistically, a rare disease is one that affects up to 1 in 2,000 people. There are approximately 5,000 to 8,000 rare diseases. It is estimated that rare diseases affect 6 to 8 per cent of the population. This is more than 1.2 to 2 million Australians and is almost one and a half times the number of Australians with diabetes. Approximately 400,000 children live with a rare disease in Australia.
The 12th Rare Disease Day® will focus on bridging the gaps in the coordination between medical, social and support services in order to tackle the challenges that people living with a rare disease and their families around the world face every day.
Rare forms of arthritis
There are over 100 types of arthritis and those with a rare form often face several years without a correct diagnosis while many are initially misdiagnosed. CreakyJoints Australia is especially working to raise awareness for the many rare types of arthritis and to decrease the time taken to receive an accurate diagnosis and start appropriate treatment.
"There are so many types of arthritis, and the symptoms overlap with so many other conditions that even for the more common forms of the disease an accurate diagnosis can take an average of three years. This is treble for people with more rare forms of arthritis with the correct diagnosis often taking a decade or more" says Naomi Creek, National Co-ordinator of CreakyJoints Australia.
Although exact figures are difficult to find, some of the rarer forms of arthritis include:
Mixed connective tissue disease
Palindromic rheumatism
Felty's Syndrome
Diffuse Idiopathic Skeletal Hyperostosis (DISH)
Adult Onset Still's Disease
Granulomatosis with polyangiitis (GPA)
Challenges of living with a rare disease
It is hard enough to live with any form of chronic illness, but to have a condition that few other people have brings its own set of challenges. In addition to a lengthy diagnosis period and frequent misdiagnosis, those with rare diseases are also faced with:
A lack of understanding around how to treat their condition.
Few available treatment options or difficulties getting access to treatment.
A lack of health support services available.
Having to explain their condition repeatedly to others and often not being believed.
A strong sense of isolation due to a lack of emotional and mental health support.
If you or someone you know has a rare form of arthritis, it is important that you make your overall wellbeing a priority and seek support from as many different quarters as you can. This could include allied health professionals, such as psychologists, physiotherapists and pharmacists. You may be entitled to various government pensions, benefits and services, so be sure to check these out thoroughly as well.
Also seek out any online and local support groups for arthritis, chronic illness, autoimmune conditions or rare diseases.
For more information about arthritis:
Visit the CreakyJoints Australia website and register for free membership to receive our monthly newsletter and more.
Contact the arthritis organisation in your state or territory.
For information about mental health, contact Beyond Blue.
For information about living with a rare disease in Australia visit Rare Voices Australia.
For information about Rare Disease Day® 2019 events, visit Rare Disease Day® (global) or Rare Disease Day® Australia.
For information about rare diseases, visit National Organisation for Rare Disorders (NORD).
Help us raise awareness for Rare Disease Day®
CreakyJoints Australia have designed a graphic that we will be sharing on all our social media channels on Rare Disease Day® 2019 and we hope that everyone will share it widely to help us raise awareness and help people get a timely diagnosis.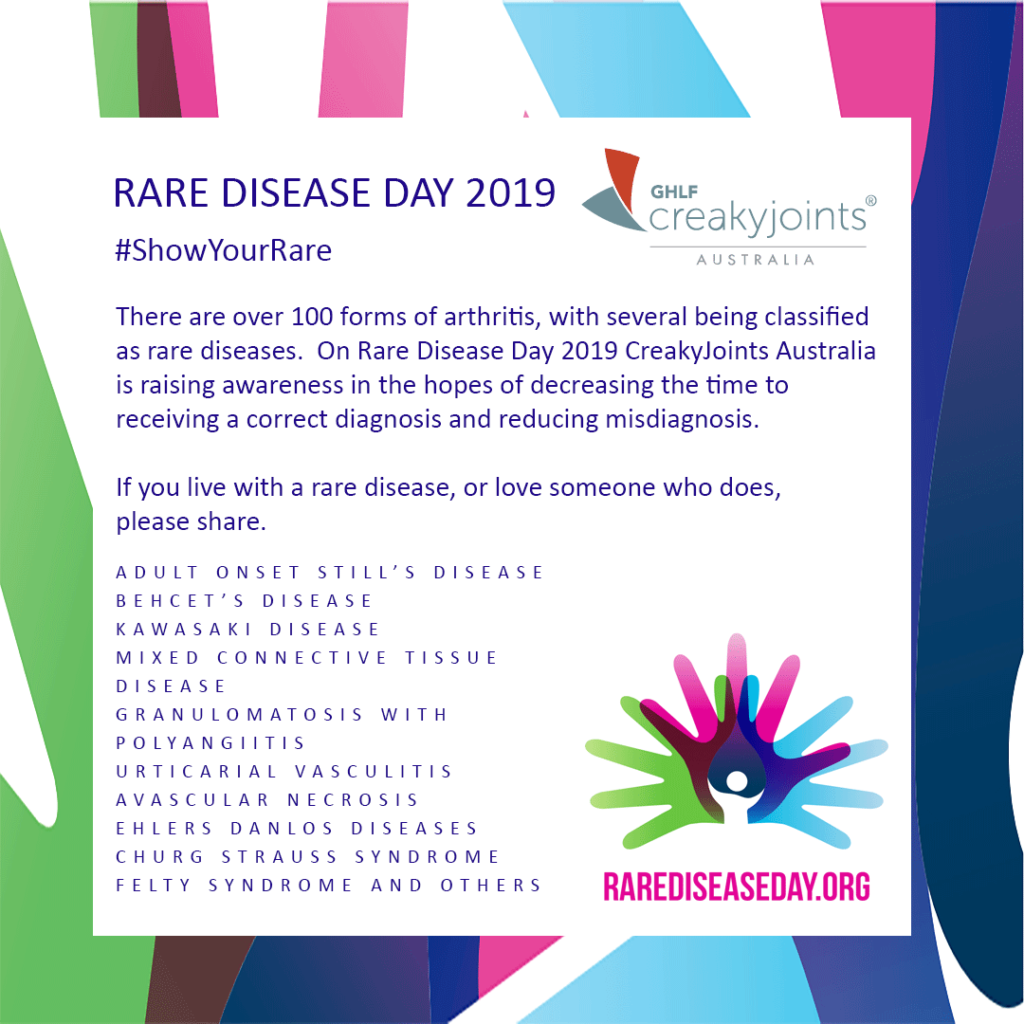 Join the CreakyJoints community
Join our regular e-newsletter and stay in touch with our community