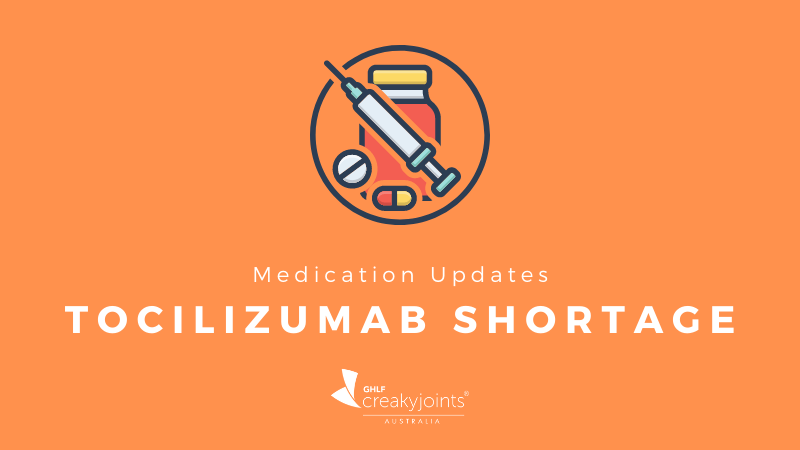 20 December 2021
Tocilizumab (Actemra®) is a type of biologic medication that has been recommended by the World Health Organisation as a treatment for patients seriously ill from COVID-19. With the growing need for effective COVID-19 treatments worldwide, demand has been outstripping supply.
Tocilizumab is used in Australia to treat:
Rheumatoid arthritis

Polyarticular juvenile idiopathic arthritis

Systemic juvenile idiopathic arthritis

Giant cell arteritis

Cytokine release syndrome
It can normally be given by intravenous (IV) infusion in a hospital or infusion centre or injected subcutaneously using a pre-filled syringe or pre-filled auto-injector pen. However, severe shortages of all tocilizumab dosages and devices since July 2021 meant affected patients have had to review their treatment options with their prescriber.
Limited Supply of Tocilizumab Now Available in Australia
On 20 December 2021, the Australian Rheumatology Association (ARA) met with representatives from the Therapeutic Goods Administration (TGA), Arthritis Australia and Roche (the supplier of Actemra®) to discuss the supply situation. Stock of IV tocilizumab has now arrived in Australia. This is enough to ease the current severe shortage but it is not enough to completely resolve the situation.
The following changes to the recommendations for use for those patients who are currently or previously on IV tocilizumab have been reproduced from the Australian Rheumatology Association website.
Systemic juvenile idiopathic arthritis (sJIA) patients and polyarticular juvenile idiopathic arthritis (pJIA) patients 
Patients undergoing IV tocilizumab treatment for sJIA and pJIA may resume their normal dosing regimen. 

Patients with sJIA and pJIA can be initiated on IV tocilizumab if required.
Adult rheumatoid arthritis patients
Adult patients who have been continued on IV tocilizumab treatment for rheumatoid arthritis during the shortage may resume their normal dosing regimen if dosing intervals have been increased during the shortage. 

For those adult patients who were previously on IV tocilizumab and were switched to an alternative biologic or targeted synthetic agent due to the tocilizumab shortage, but are now experiencing flare requiring prednisolone, these patients may resume IV tocilizumab.

We continue to recommend against initiation of adult RA patients onto IV tocilizumab.
During the shortage the amount of IV tocilizumab supplied to hospitals was significantly reduced, the ARA has been reassured by Roche that these amounts will increase following this latest shipment. To be clear the amounts available to hospitals will still be reduced compared to pre-pandemic levels. 
Alternative Treatment Options for Tocilizumab
If you (or someone you provide care for) uses tocilizumab, you should contact your prescribing doctor (usually your rheumatologist) as soon as possible for further guidance on managing treatment during the tocilizumab shortage. The options you discuss may include:
Delaying the start of your treatment if you have not used tocilizumab before

Using a different type of biologic medication to treat your condition

Reducing the frequency of your tocilizumab dose

Using a pre-filled syringe instead of a pre-filled auto-injector pen or vice versa (as they are the same medication and strength)
You can also consider additional medications or complementary therapies to help you manage your condition as well as possible during the supply shortage. It is not recommended that you change any aspect of your tocilizumab treatment without consulting your prescribing doctor first.
Supplies of both of the SC tocilizumab preparations (pre-filled syringe or pre-filled auto-injector pen) have improved but still remain lower than pre-pandemic levels.
Your pharmacist can substitute a different subcutaneous injection device without the need for a new prescription until 30 April 2022 (subject to change). Both your prescribing doctor and your pharmacist should ensure you know how to use both the pre-filled syringe and pre-filled auto-injector pen in case they need to be switched.
Supplies of tocilizumab are expected to improve by early 2022. However, due to the uncertainty of the ongoing COVID situation, use of this medication needs to continue to be managed with caution.
Keep Reading