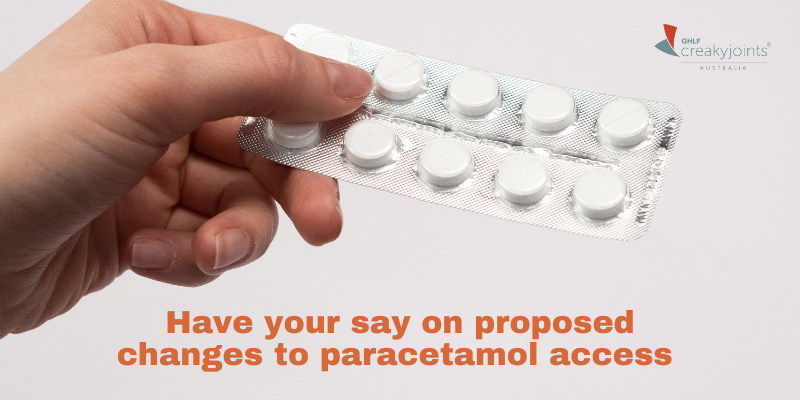 The Therapeutic Goods Administration (TGA) is seeking public comments on several proposed options to amend the Poisons Standard with regards to paracetamol. The consultation comes in light of an independent expert report on the risks of self-harm from intentional paracetamol misuse. 
The review confirmed that there were increasing rates of intentional self-poisoning with paracetamol in the last decade in Australia, with the greatest proportion of cases in adolescents, young adults and females being significantly overrepresented. 
Paracetamol is a medication that is widely used throughout the community. Although the outcomes from paracetamol overdoses are tragic, they are extremely rare when considering the volume of paracetamol sold in the community each year. 
If potential changes to accessing paracetamol are considered by the TGA, it is important that the public have an opportunity to provide feedback. It is emphasised that the TGA does not have a view at this stage on the merits or otherwise of any particular options. 
There have currently been no changes to how paracetamol can be purchased from supermarkets, pharmacies, or convenience stores. 
Proposed Changes
Pack size restrictions.

Changes in scheduling to reduce the pack sizes that may be purchased in grocery and convenience sales or in a pharmacy without a prescription or consultation with the pharmacist are both possible strategies. This would reduce the number of grams of paracetamol held in homes and thus the number of very large overdoses taken in impulsive self-poisonings.

 

Pack number limits.

Most (around 95 per cent) sales of paracetamol tablets involve the purchase of 1 or 2 packs. Making this the maximum number of packs that can be purchased in one transaction would almost certainly reduce home stockpiles, and likely also reduce the number of very large overdoses, which have much higher morbidity and risk of death.

 

Modified release (MR) paracetamol restrictions.

This product is designed for long-term use (e.g., for osteoarthritis), rather than for acute pain. Making these products available by prescription only (S4) would be expected to reduce casual use of this more dangerous product and therefore overdoses.

 

Age restrictions.

An 18+ age restriction on the purchasing of over-the-counter analgesics would be expected to reduce poisonings among 10 to 17-year-olds.

 
The biggest impact is likely to come from MR paracetamol being made S4, followed by smaller pack size limits and pack number limits for pharmacy-only (S2) products, as both would be likely to reduce the number of grams of paracetamol routinely held in homes and thus the numbers of very large overdoses taken in impulsive self-poisonings. 
There are also some non-medication-specific recommendations to reduce self-poisoning. 
Use safe reporting guidelines for any communication around the harms associated with paracetamol (or any other) overdose.

Any communication around the potential harms of paracetamol must comply with safe reporting guidelines and be rigorously evaluated prior to implementation.

 

Maintain and expand support for aftercare services.

All intentional self-poisonings should be offered appropriate care and Australian recommendations for aftercare (follow-up care and support after self-harm) implemented.

 

Inform safer storage of medicines and reduced stockpiling of unwanted medicines.

Generic messages around keeping medications and chemicals out of harm's way might reduce intentional poisoning risks for children and adults.

 
What We'd Like You to Do
CreakyJoints Australia and our parent organisation, Global Healthy Living Foundation Australia (GHLF Australia), would like to collate your comments into a single submission and send it to the TGA on your behalf.
Your comments can respond to any or all of the proposed options. You could discuss the potential benefits or costs/impacts to you of the proposed options. For example: 
Managing your pain levels and daily life

 

Having paracetamol available only in blister packs rather than jars

 

Buying paracetamol in bulk versus in small pack sizes

 
Needing a prescription for some or all forms of paracetamol

 

Having paracetamol available only in pharmacies

 

Needing to be over 18 to access paracetamol

 
If possible, please attempt to provide your rough calculations of any financial costs and benefits. You are also welcome to suggest ideas about improving safe access to paracetamol. How to Submit Your Comments to Us 
Please send your responses to us by: 
Typing your comments into a Word document and attaching that to your email OR

 

Typing your comments directly into your email.

 
Your comments can be as simple as a few bullet points or as long as two or three paragraphs. 
Please email your comments to Rosemary Ainley at rainley@creakyjoints.org.au no later than 5 pm on Sunday 9 October 2022. 
If you wish to make your own submission directly to the PBAC you can do so by going to:  https://consultations.tga.gov.au/tga/paracetamol_november_2022_acms/ 
Kind regards, 
The CreakyJoints Australia team 
Keep Reading