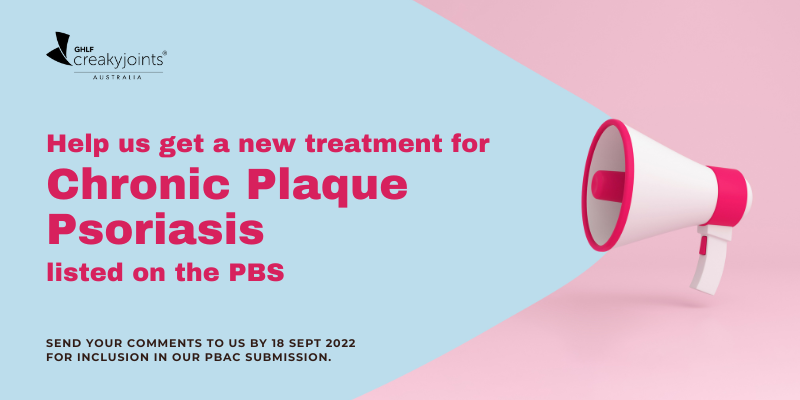 Australians with severe chronic plaque psoriasis (CPP) currently have access to four PBS-subsidised non-biologic systemic therapies including apremilast, methotrexate, ciclosporin, and acitretin. These treatments are available as oral medications and methotrexate can also be self-injected under the skin.
However, a new option, deucravacitinib, is currently being considered for listing on the Pharmaceutical Benefits Scheme (PBS) and we need your help to get it approved.
If patients fail to achieve an adequate response to at least two of these non-biologic therapies and have a PASI score (a tool used to measure the severity and extent of psoriasis) of 15 or more, they become eligible for PBS-subsidised biologic disease-modifying anti-rheumatic drugs (biologics).
Biologics have led to significant improvements in the management of patients with CPP; however, the strict criteria for access means that not all patients are eligible.
What is Deucravacitinib?
Deucravacitinib (Sotyktu®) is a tyrosine kinase 2 (TYK2) inhibitor. It is part of a group of medicines called janus kinase (JAK) inhibitors which fall under the general family of disease-modifying anti-rheumatic drugs (DMARDs). TYK2 inhibitors work by interrupting the cellular signalling that contributes to the formation of psoriatic lesions.
Deucravacitinib is the first once-daily, oral, TYK2 inhibitor used to treat CPP.
Results of clinical trials1 show that deucravacitinib is statistically significantly superior to apremilast based on a range of endpoints and timepoints.
The introduction of deucravacitinib will not alter the current clinical management pathways in Australia. Rather, the introduction of deucravacitinib will provide patients currently eligible for apremilast with another oral treatment option.
For example, people who have not had an adequate response to (or are intolerant of) methotrexate and are not on a biologic therapy, may be eligible to try deucravacitinib.
The Pharmaceutical Benefits Advisory Committee (PBAC) will be meeting in November to decide whether or not to make deucravacitinib available on the PBS. If approved, it will be available for people aged 18 years and over who have been diagnosed with CPP and are being treated by a dermatologist.
What We'd Like You to Do
The PBAC welcomes submissions from patients, carers, health professionals, consumer groups or organisations and members of the public on medicines submitted for PBAC consideration.
CreakyJoints Australia would like to collate your comments into a single submission and send it to the PBAC on your behalf. Your comments can respond to any or all of the following questions:
What is the impact of CPP on your life? Try to be as specific as possible including impacts on your everyday activities, work, family, friends, and mental and emotional health.
How well does your current treatment work for your CPP symptoms? Do you experience side effects from it?
What do you see as the advantages of this proposed medicine? For example, what impact could it have on your condition or quality of life?
Would it help you to have access to a new form of non-biologic treatment? Why or why not?
What do you see as the main disadvantages of this proposed medicine?
You are welcome to provide any additional comments you would like the PBAC to consider.
How to Submit Your Comments to Us
Please send your responses to us by:
Typing your comments into a Word document and attaching that to your email OR
Typing your comments directly into your email.
Your comments can be as simple as a few bullet points or as long as two or three paragraphs. Please email your comments to Rosemary Ainley at rainley@creakyjoints.org.au no later than 5 pm on Sunday 18 September 2022.
We will collate your replies into a single submission and send it to the PBAC on your behalf. If you wish to make your own submission directly to the PBAC you can do so by going to https://ohta-consultations.health.gov.au/ohta/online-comments-to-pbac-november-2022/
Kind regards,
The CreakyJoints Australia team
1
The main clinical comparison is based on outcomes from the POETYK 1 and POETYK 2 trials, specifically a comparison between deucravacitinib and apremilast.
Keep Reading