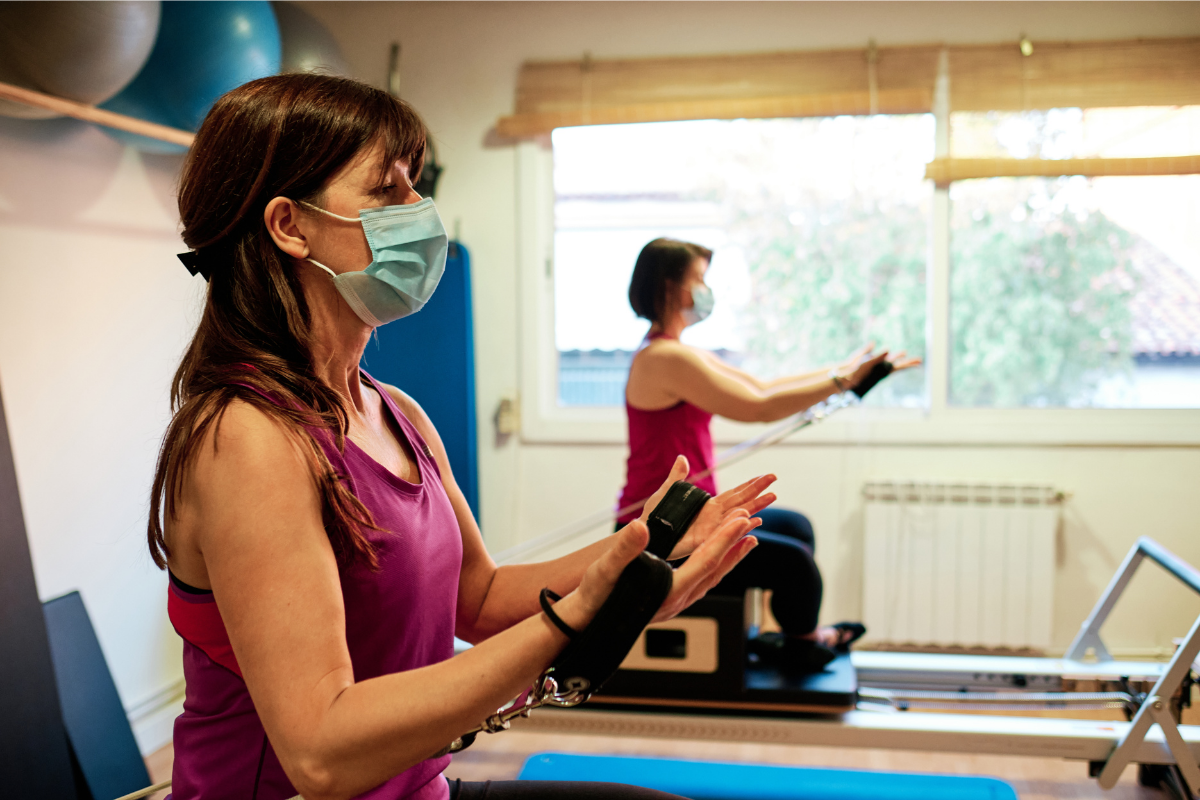 This article has been adapted, with permission, from a corresponding article by Kelsey Kloss on the CreakyJoints US website. We believe many Australians will relate to this topic. Some content may have been changed to suit our Australian audience.
Although many Australians may feel like "normal life" is back after the pandemic — as mask mandates have been lifted, work-from-home employees return to offices and many resume their pre-pandemic ways — things aren't so cut and dried for the immunocompromised.
If you have an underlying condition that puts you at higher risk of severe COVID-19, following shifting public health guidance may have been a particular challenge for you and your families during the pandemic, especially since this guidance is often different for the immunocompromised than it is for the general population.
"Because public health guidelines for immunocompromised people may change when the more general guidelines do not, immunocompromised people may be getting different information from their families, their friends or even their health care providers on how to stay safe than they get from professional organisations or regulatory bodies," says Beth Wallace, MD, MSc, a rheumatologist at University of Michigan Health, Michigan Medicine.
If you're immunocompromised, this may make you feel anxious, lonely, stigmatised or singled out. However, this is the time to rely on others in the immunocompromised community for support. While you may feel alone, you're certainly not —many others are experiencing the same things you are.
"As many people are becoming more relaxed, obviously immunocompromised patients don't have that luxury," says clinical rheumatologist Magdalena Cadet, MD, Associate Attending Physician at NYU Langone Health in New York City. "It's important that these individuals still reach out to each other to provide that social and emotional support."
5 Ways to Support Each Other During COVID-19
Here are five ways rheumatologists and psychologists say the immunocompromised community can support each other during this stage of the pandemic.
1. Join a forum to express your concerns and feelings
Of course, it can feel extremely isolating if you're the only one who still seems to be concerned about COVID-19.
"If you are already part of a community in which you are used to being marginalised in general, it just feels like you're being excluded again," says Melissa Matos, PhD, a licensed clinical psychologist at Re-Active PT and Wellness, a rehabilitation and physical therapy clinic in Long Beach, California. "I think that has been a salient experience for people who are immunocompromised and living with chronic health conditions throughout the pandemic."
At the beginning of the pandemic, your employers, friends, family and others may have been very willing to set up accommodations to help you live safely (like offering remote work and requiring masks at events). You may have also felt more comfortable going grocery shopping or running other errands when universal masking was required.
"Now that many peoples' perception of COVID is changing, these accommodations are going away, and some things that immunocompromised people used to feel safe doing no longer feel safe to them," says Dr Wallace. "This is affecting people's quality of life, not just because they're changing how they interact with others, but in many cases, because they feel like society — and often their family, friends, employers and so on — are moving on without them and they're being 'left behind'."
One way to address this is by talking to other immunocompromised patients via an in-person or online support group for people with similar conditions.
(See our page How to Find A Peer Support Group for helpful tips on choosing the right support group for you.)
"Whatever you are feeling in a given moment, you are absolutely entitled to feeling those emotions coming up," says Dr Matos. "One of the feelings that many immunocompromised people have talked about is not only feeling excluded but also a bit jealous of those who can resume normal activities."
Other immunocompromised patients may be able to offer tips and advice based on how they're navigating this new phase of the pandemic. But even if they don't, having someone to listen and validate your feelings can make all the difference.
"By being available to connect and say, 'That happened to me, you're not alone,' you're sharing your experiences," says Dr Matos. "I think there's something really powerful about feeling validated and normalised, especially feeling validated by someone else who understands your experience — like others who are immunocompromised."
It can make a big difference. According to a November 2020 study of individuals undergoing social isolation and social distancing published in the journal Psychiatry Research, the risk for elevated levels of depression symptoms was 63 per cent lower in those who reported higher levels of social support compared to those with low perceived social support.
2. Take mitigation efforts together
Your level of risk depends on your unique circumstances, but if your doctor has suggested that you continue to take mitigation efforts like wearing a mask in public, it's easy to feel singled out.
You may even get questioned by strangers about your decision to wear a mask. However, you may feel less singled out if you have an immunocompromised friend or family member who will join you in masking up for outings.
If you need to continue wearing a mask to manage your risk of COVID-19, you're certainly not alone. The Australian Government and the Australian Health Protection Principal Committee (AHPPC) still recommend wearing a mask to help protect yourself and others. Mask mandates are still in place in some high-risk settings, such as hospitals.
"At this point in the pandemic, I think masking is still important for those vulnerable to developing severe complications from COVID infection," says Dr Wallace. "However, local and federal mandates can be very helpful in helping immunocompromised people, their families and their providers determine more precisely what the risk level is in their community, so they can decide what precautions make sense for them."
There's power and support in numbers. Find someone who also wants or needs to continue masking and protect yourselves together. You may even be able to get your immunocompetent friends and family on board if you ask them to wear a mask with you.
"I think there's this worry about being the only person wearing a mask, and that can feel very anxiety-provoking, especially if you have an experience of being marginalised," says Dr Matos. "If you can, wear a mask with other people — even if they're not immunocompromised."
3. Learn from each other
Knowledge is power, and the most powerful thing immunocompromised people can do for each other is share what they know about therapeutic COVID-19 treatments, where to find protective N95 masks and when new booster shots can be administered for the immunocompromised.
"There's strong and increasing data that our current vaccines prevent COVID-related death and severe illness, including in the immunocompromised population," says Dr Wallace. "It's hard right now to predict the degree to which other treatments, like monoclonal antibodies and antivirals, will affect the COVID landscape for immunocompromised people, but they're definitely providing hope that some degree of normalcy will be possible in the not-so-distant future."
First, however, you need to know how to access these preventive measures and therapeutic treatments — and picking the brains of other immunocompromised in your community can be a great way to do so. Join local Facebook groups or other support groups to learn from those in your town or region. And of course, be sure to also consult your doctor and trusted websites like healthdirect, the Royal Australian College of General Practitioners (RACGP) and the Australian Rheumatology Association.
"Right now, we know there are therapies available for patients who get COVID-19, so I think it is important for these patients to go to the appropriate trusted website — and they can discuss among themselves the options that are out there," says Dr Cadet.
4. Stay active together
Fitting in physical activity is paramount, especially if you're living with a rheumatic disease or type of inflammatory arthritis. Although it may feel too risky to go to the gym (where others are working out unmasked), you may find it helpful to join in workouts with other immunocompromised individuals in a setting that feels safe.
"There are still a lot of online classes being offered by gyms or personal trainers, so I think getting everyone together and participating as an online class is definitely do-able and safe," says Dr Cadet. "Taking a walk is also a great thing to do together."
You can also do your strength training together over Zoom calls or, if you're able to afford it, hire a personal trainer to come and train a very small group of friends outdoors (or indoors if they're wearing masks).
"Again, if you do that, keep the group small and limited to those who are vaccinated and boosted," says Dr Cadet.
If you feel like you became less active during the pandemic due to restrictions, you're not alone. In a study presented at ACR Convergence 2021, the annual meeting of the American College of Rheumatology, over half of surveyed participants (55.5 per cent) — who were adult patients with rheumatic and musculoskeletal diseases in an academic health care system in North Carolina — reported that they engaged in less physical activity since the start of the pandemic.
Physical activity isn't just beneficial for conditions like rheumatoid arthritis and ankylosing spondylitis. Overall, it also makes your immune system function better, it helps your body respond to viruses more quickly and optimally and can also help your body respond efficiently to vaccines.
5. Join virtual activities
Don't forget to engage in your favourite activities and hobbies, whether it's cooking or crocheting. Doing so in a group — in a safe, virtual setting — can help boost your mood and connect you with others who may not be ready to meet up in person yet.
"There are still a lot of people doing virtual activities," says Dr Matos. "If you're still able to engage in mutual interests or activities where you can maintain safety standards that feel comfortable to you, that's something that would be very helpful."
If you feel safe, that may also involve meeting with one or two others in person with mitigation efforts in place — like staying outdoors or wearing masks.
Keep Reading