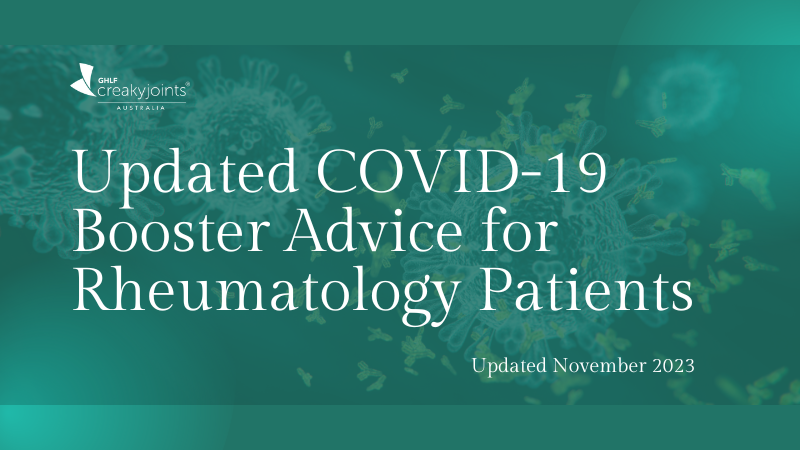 The following information has been sourced from the  Australian Technical Advisory Group on Immunisation (ATAGI) advice published on 1 September 2023 and the Patient Information on the COVID-19 Vaccination in Autoimmune Inflammatory Rheumatic Diseases resource published on 6 October 2023 by the Australian Rheumatology Association (ARA).
This information should never replace the information and advice from your treating doctors. It is meant to inform the discussion that you have with healthcare professionals, as well as others who play a role in your care and well-being.
Do we still need protection from COVID-19?
In short, yes. Although we no longer see COVID-19 updates in the news, new infections, hospitalisations and deaths continue to occur in Australia. Long COVID is also a risk for many, including those with underlying chronic conditions.
The primary aim of COVID-19 vaccination continues to be to reduce the risk of serious illness and death. This is particularly important for older adults and those with risk factors for severe disease.
Autoimmune diseases (including rheumatoid arthritis) are caused by the body's immune system, which usually protects us from infection. When the immune system is affected by such conditions or medicines to treat them, the risk from COVID-19 may be increased.
All the COVID-19 vaccine brands are very good at stopping severe symptoms and hospitalisation caused by COVID-19 after the initial primary course (2-3 doses) and the necessary booster doses.
For more information on vaccines used in Australia, visit: https://www.health.gov.au/our-work/covid-19- vaccines/our-vaccines/how-they-work#covid19-vaccines-in-australia
ATAGI September 2023 Recommendations
This updated advice provides guidance on who should consider receiving an additional dose of a COVID-19 vaccine booster in 2023. This advice also reflects that much of the population, particularly younger individuals with no other medical conditions, are currently well-protected against severe disease from COVID-19 from a combination of their previous vaccinations (including those who have already received a 2023 booster) and additional immunity gained from a previous infection.
ATAGI recommends that all adults aged ≥ 75 years should receive an additional 2023 COVID-19 vaccine dose if six months have passed since their last dose.
ATAGI advises the following groups should consider an additional 2023 COVID-19 vaccine dose if six months have passed since their last dose, after discussion with their healthcare provider:
All adults aged 65 to 74 years, and/or
Adults aged 18 to 64 years with severe immunocompromise.
Within the above groups, an additional 2023 COVID-19 vaccine is likely to be of most benefit to people who:

Have no known history of SARS-CoV-2 infection (and therefore are unlikely to have protection from hybrid immunity),
Have medical comorbidities that increase their risk of severe COVID-19, disability with significant or complex health needs or
Reside in a residential aged care facility.
ATAGI continues to encourage all adults who were recommended to have a COVID-19 vaccine dose in February 2023, and who have not yet had one, to receive a vaccine dose as soon as possible.
For younger people or older adults without severe immunocompromise who have already had a dose in 2023, no further doses are currently recommended.
Previous ATAGI recommendations stated that people should consider an additional vaccination dose six months after their previous dose or COVID-19 infection. Now, it is challenging for many individuals to know if or when they last had an infection. Therefore, the current recommendations are based on the date of the previous dose.
Where previous infection details are unknown, it is appropriate to proceed with a first 2023 dose and an additional dose for eligible people outlined in this update.
This ATAGI poster of recommended COVID-19 vaccines outlines the doses recommended for each age and population group. https://www.health.gov.au/sites/default/files/2023-09/atagi-recommended-covid-19- vaccine-doses.pdf
Please encourage your household members and other close contacts to have all the recommended COVID-19 vaccinations, including the booster doses once they are eligible as this may offer you further protection from getting COVID-19. This is known as the "ring" vaccination concept.
Will The Medicines That I Take for My Condition Affect the Way the Vaccine Works?
Some people who are taking medicines that suppress the immune system may be advised to continue avoiding exposure to COVID-19 after they have had the vaccine. This is because their medications could mean their immune system does not respond as strongly to the vaccine as people who don't take these drugs. This does not mean you should stop your treatment, because this can result in a flare of your condition which puts you at greater risk from COVID-19. The timing and dosing of some medicines may also need to be individualised, if you are unsure, please speak to your treating rheumatologist for advice.
Can I Have Other Vaccines (e.g. Influenza Vaccine) at the Same Time as the COVID-19 Vaccine?
Yes, the COVID-19 vaccine and the influenza (flu) vaccine can be safely given at the same time. You do not need to delay your flu vaccine. The COVID-19 vaccine does not protect against the flu, so it is important to still have your annual flu vaccine.
Further Resources
Australian Government Healthdirect website – COVID-19: https://www.healthdirect.gov.au/covid-19
Australian Government – COVID vaccine fact checker: https://www.health.gov.au/initiatives-and-programs/covid-19-vaccines/is-it-true
Royal Australian College of General Practitioners – COVID-19 vaccine information for GPs: https://www.racgp.org.au/clinical-resources/covid-19-vaccine-resources/news-and-updates/covid-19-vaccine-information-for-gps
ATAGI statement on the use of a 3rd primary dose of COVID-19 vaccine in individuals who are severely immunocompromised: https://www.health.gov.au/news/atagi-statement-on-the-use-of-a-3rd-primary-dose-of-covid-19-vaccine-in-individuals-who-are-severely-immunocompromised
The information above is correct as of 8 November 2023.
---
Keep Reading