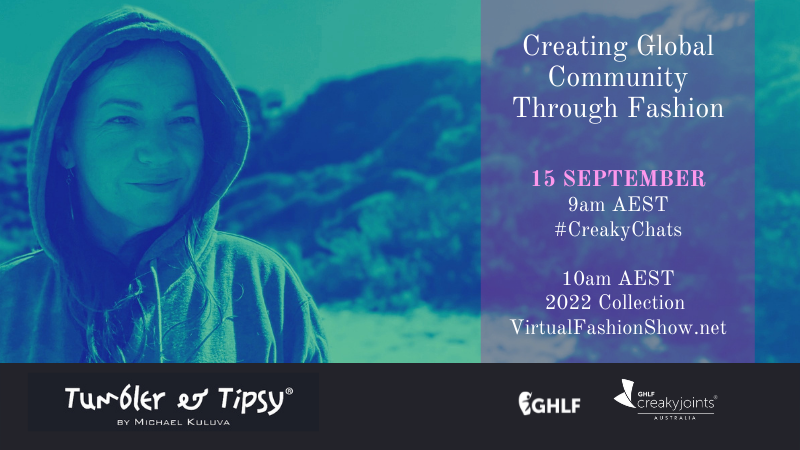 CreakyJoints Australia are proud to join our parent organisation, Global Healthy Living Foundation (GHLF), and sister organisation, CreakyJoints (US), in supporting the Tumbler and Tipsy® by Michael Kuluva 2022 Collection event. We've converted the start time from US Eastern Standard Time (EDT) to Australian Eastern Standard Time (AEST) for your convenience.
Global Healthy Living Foundation (GHLF) and its digital patient community for people with all forms of arthritis, CreakyJoints, is the primary, presenting sponsor of the Tumbler and Tipsy® by Michael Kuluva 2022 Collection timed to close New York Fashion Week.
Recognising how our world has grown closer during the pandemic through the accelerated adoption of online video platforms, designer Michael Kuluva's virtual presentation includes models – many of whom are CreakyJoints and GHLF members – from around the world.
The Tumbler and Tipsy by Michael Kuluva 2022 Collection event –  filmed in Canada, the United States, New Zealand and Australia — will be presented virtually and premiere on YouTube on Wednesday 15 September at 10 am AEST (Tuesday 14 September 2021 at 8 pm US EDT). Immediately preceding the premiere, GHLF will host a live #CreakyChats on Twitter with partner organisations from around the world. The chat will enable participants to reflect on how the chronic disease community can amplify their representation and voices by participating in events like Michael's inspirational collection.
Including a swirl of blue and purple tones, the colours of arthritis and migraine awareness, the hand-dipped collection doesn't sacrifice Michael's signature flare as the lines are reminiscent of the 90s and the fabrics are accessorised with eye-catching embellishments.
Actress Tara Reid ("American Pie", "The Big Lebowski", "Cruel Intentions") will close the Tumbler and Tipsy collection, holding an eco-friendly, luxurious, cactus leather bag adorned with genuine crystal charms designed by Michael and Tara.
This year, for the first time, Michael also designed a signature pair of sunglasses to drive awareness of the impact of migraine, a chronic, neurological condition impacting many members of the Global Healthy Living Foundation. Research shows that migraine is the 3rd most prevalent illness in the world and ranks second among the world's causes of disability.
"Despite physical distancing, we've all found ways to stay connected to our family, friends and the other important people in our lives. For me, staying connected to the CreakyJoints arthritis community and the broader chronic disease community has helped me stay grounded during uncertain times, which is why I invited so many members to model my latest collection," said Mr Kuluva. "I'm really excited to share my virtual presentation of the 2022 Collection with the entire world."
Attractive Accessibility
As always, Michael doesn't forget that functionality is part of wearable fashion. His collection includes the softest, easiest to wear fabrics, many of which include fasteners that are easier for people with arthritis to manipulate.
To create his one-of-a-kind global, virtual show, Michael sent specially designed ensembles to his models around the world. Some of the models include:
New Jersey's Kelly Boyd, a patient advocate living with RA who uses a wheelchair for mobility

Virginia's Jaime Sanders, a patient advocate living with migraine

Vancouver, Canada's Eileen Davidson, a patient advocate living with RA

Tasmania, Australia's Naomi Creek, the national coordinator of CreakyJoints Australia and a person living with RA

New Zealand's Alice Jones, a patient advocate living with ankylosing spondylitis
Tiffany Moon, a personality from the Real Housewives of Dallas, along with professional models are also featured in the show.
"Supporting Michael Kuluva's Tumbler and Tipsy fashion event is a fun and creative way each year that GHLF raises the voice of people living with chronic disease," said Joseph M. Coe, MPA, Director, Education and Digital Strategy. "Michael's show defies borders and limits by inviting our members from around the world to create their own runway. This year is extra special, for me, because I've been asked to model a shirt Michael made to highlight our new migraine and headache podcast Talking Head Pain."
Event Details
To participate in the live #CreakyChats on Twitter (@CreakyJoints) visit https://twitter.com/CreakyJoints on Wednesday 15 September at 9 am AEST (Tuesday 14 September 2021 at 7 pm US EDT) The #CreakyChats will be co-hosted by the Canadian Arthritis Patient Alliance (@CAPA_Canada) and CreakyJoints Australia @CreakyJointsAus).
Following the Twitter chat, The Tumbler and Tipsy by Michael Kuluva virtual show will premiere on Wednesday 15 September at 10 am AEST (Tuesday 14 September 2021 at 8 pm US EDT) on YouTube, accessible at www.virtualfashionshow.net or http://www.youtube.com/michaelkuluvaofficial
CreakyJoints co-founders Seth Ginsberg and Louis Tharp said, "Once again, Michael is pushing back on convention, ensuring that diversity is front and centre in his Tumbler and Tipsy collection. We offer our sincere congratulations on the upcoming premiere of his show, which will reach people around the world. He's a valued member of our CreakyJoints and GHLF community, always setting the example of how to live and live well with rheumatoid arthritis."
About Rheumatoid Arthritis
Rheumatoid arthritis (RA) is a chronic inflammatory disease that causes pain, stiffness, swelling and loss of function in the joints throughout the body, but typically the small joints of the hands and feet. RA can strike at any age and, if left untreated, can cause joint damage and even permanent joint destruction or harm to the body's organs. RA is an autoimmune disease that is treated typically by a specialist called a rheumatologist.
Read more about managing RA in the free CreakyJoints Australia publication A Patient's Guide to Living with Rheumatoid Arthritis in Australia.
About Tumbler and Tipsy
Anchored by the creative mind and brilliant talents of professional figure skater turned fashion designer, Michael Kuluva, Tumbler and Tipsy is not only reworking, redefining and revamping the world of fashion but is taking it over with his sexy yet stylish brand.
Tumbler and Tipsy is produced in Los Angeles, CA with colourful collections that are distinctive, but never repetitive, chic and classy while being comfortable and versatile. Tumbler and Tipsy is not just a line of clothing, it's a collection of art, it's an embodiment of chic fashion in the modern world, and it's a representation of a lifestyle: fun, bold, luxurious and daring.
About the Global Healthy Living Foundation and CreakyJoints
CreakyJoints was co-founded in 1999 by arthritis patient and advocate Seth Ginsberg (diagnosed with spondyloarthropathy at age 13) and social entrepreneur Louis Tharp. In 2007, the Global Healthy Living Foundation (GHLF) was established.
GHLF is a 501(c)(3) not-for-profit organisation based in Upper Nyack, New York. GHLF advocates for improved access to healthcare at the community, state and federal levels, amplifying education and awareness efforts within its social media framework.
Central to this advocacy is the commitment to educate about the importance of diagnosis, early and innovative medical intervention and long-term lifestyle improvement with the goal of improved health outcomes. GHLF is also a staunch advocate for vaccines.
GHLF is the parent organisation of CreakyJoints, CreakyJoints Australia, CreakyJoints Espanol, CreakyJoints Canada, GHLF Australia and a growing family of other patient-centred websites and educational programs.
Keep Reading