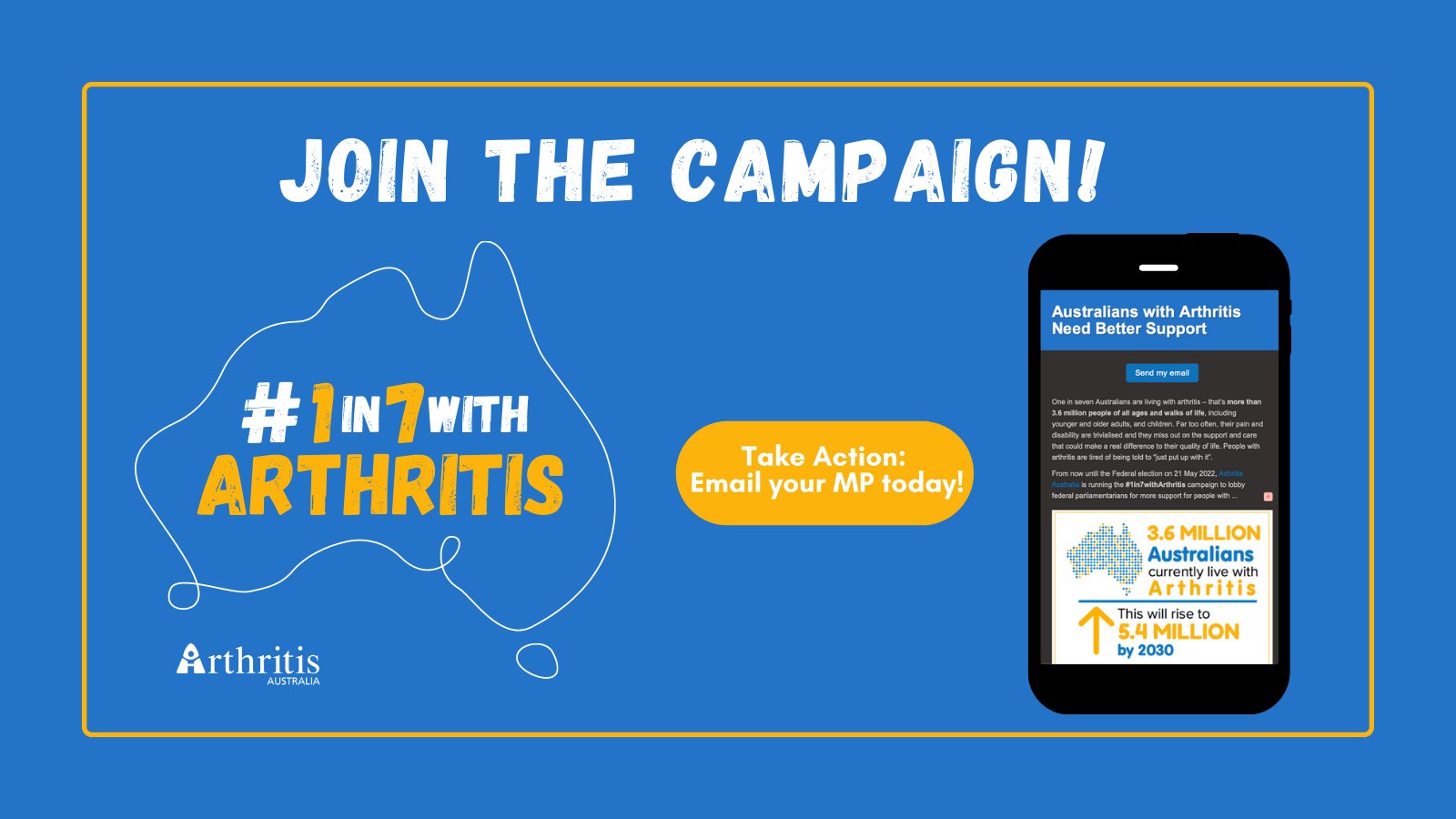 Did you know that one in seven Australians live with arthritis? That's more than 3.6 million people of all ages and walks of life, including younger and older adults and children. This figure is projected to increase to 5.4 million by 2030.
Arthritis is an umbrella term for more than 100 conditions affecting the joints and surrounding structures. Common forms of arthritis include osteoarthritis, a degenerative bone disease, and rheumatoid arthritis, which is a serious autoimmune condition.
Arthritis and musculoskeletal conditions are the most expensive disease group, with an estimated $14 billion cost to the health system in 2018, much of which could be avoided with better access to early diagnosis and multidisciplinary care.
With the Federal election coming up on 21 May, CreakyJoints Australia is backing Arthritis Australia's #1in7withArthritis campaign to lobby federal parliamentarians to support a package of measures to improve support for people with arthritis.
Immediate Action is Needed
Arthritis Australia CEO Jonathan Smithers said, "The COVID-19 pandemic has hit people with arthritis hard, with elective surgery cancellations leaving 32 per cent of patients waiting over a year for a total knee replacement, ongoing shortages of critical medicines and disrupted access to vital community programs."
High out of pocket costs for healthcare are another key concern for people with arthritis, who must often spend thousands of dollars a year on medication alone, plus high costs to access specialist and allied health services.
"We are calling on all parties in the 2022 federal election to commit to immediate action on costs of care and joint surgery backlogs, as well as boosting investment in the community programs that make a real difference – supporting arthritis appropriate exercise and care navigation."
"We also need to fix the chronic underinvestment in arthritis research. Arthritis and musculoskeletal conditions have a similar burden of disease to cardiovascular disease, yet only receive a fifth of the government funding.  By investing in research, we will not only provide more effective treatments and the hope of a cure but unlock major health system savings that will benefit all Australians."
Key Recommendations
Arthritis Australia has outlined six key recommendations in its platform:
Reduce out of pocket costs for consumers
Roll out a joint replacement surgery catch up and pre-surgery support package
A national package to improve outcomes for children with arthritis
Investment in arthritis community exercise programs
Funding for arthritis educators to provide better support in the community
Fix the chronic underinvestment in arthritis and musculoskeletal research
You can help share this message by taking 5 minutes to contact the leaders of the major political parties to tell them your story. Telling your story in your own words is a powerful way to help MPs understand the personal impact of arthritis and the support that is needed.
The #1in7withArthritis action page makes it quick and easy. You can use the handy tool there to send emails to the key decision-makers. You may wish to send a copy of your email to your local candidates for this election as well.
The more emails they receive, the more likely they will be to take action, so please join the #1in7withArthritis campaign now and help Arthritis Australia and CreakyJoints Australia to help you.
Share this campaign with your family and friends for even more impact!
#1in7withArthritis
Keep Reading