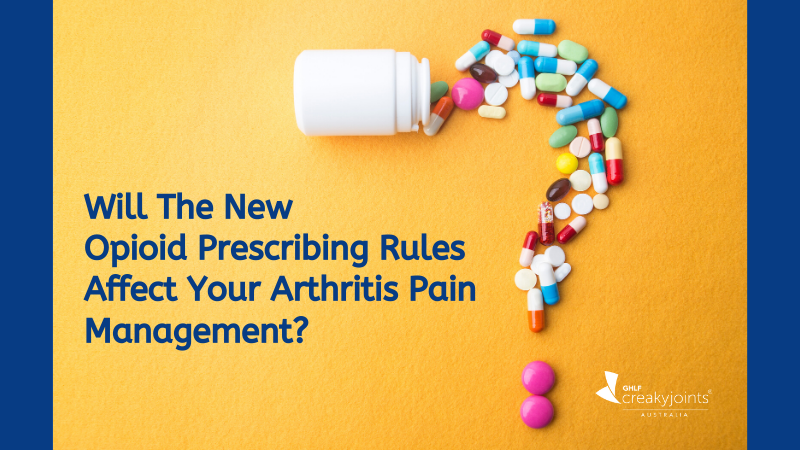 On 1 June 2020, the Federal Health Minister, Greg Hunt, announced changes to the way that opioid medications can be prescribed in Australia. These changes have led to confusion and concern amongst the arthritis community about how this will affect their current pain management regime.
For example, people in social media support groups have been worried that they will no longer have access to the medications that they have been using responsibly for years. Others have been unsure if the changes will mean more trips to the doctor or increased medication costs.
Fortunately, most of these fears are unfounded but we can still expect to see some changes in our medical consultations and the prescription processes for opioid medications. We've summarised the changes to help clear things up for you.
What are Opioids and How do They Work?
Opioids (or narcotics) are a type of analgesic naturally derived from the poppy seed plant. Although derivatives such as opium and heroin have long been used for "getting high", opioids are now only legally available in Australia for medicinal purposes under prescription — usually to treat moderate to severe pain.
Opioids don't affect the underlying cause of pain. Instead, they work by muting the intensity of the pain signals travelling to the brain — a bit like the effect of interference on a mobile phone signal. The signal is still there, it's just weaker than it was at the source and sometimes transmission gets blocked altogether.
On the positive side, the reduced pain intensity often allows us to spend more energy on the things we want to do, such as moving around more freely. On the negative side, opioids can cause side-effects such as:
Drowsiness

Confusion

Constipation

Nausea

Slowed breathing

Euphoria
Those who use opioids for chronic pain sometimes find that they need higher doses or stronger forms of opioids the longer they take them. Opioids can be highly addictive, so many doctors prefer to offer alternative analgesic options to their patients first. They also have the potential for accidental misuse due to the sense of confusion and drowsiness they can cause.
A recent fact sheet for patients about the changes to opioid prescriptions on the Therapeutic Goods Administration (TGA) website stated:
"Over the past decade, Australians have experienced a significant increase in the level of harm and deaths arising from the use of pharmaceutical opioids. Every day in Australia, nearly 150 hospitalisations and 14 emergency department admissions involve issues relating to opioid use, and three people die from the harm that results."
To address these and related issues, opioid prescription regulations have been updated as part of a broader suite of measures intended to support appropriate use of opioids and other pain medication.
What are the Regulation Changes?
Smaller pack sizes for immediate-release opioids will now be available for short-term pain relief, for example after injury or surgery. This will help reduce the risk of harm from unused opioids from larger packs, for example when these are given to family and friends. (If you have acute pain following surgery or injury you may only need a small pack size to help you manage your pain for a few days. If your pain persists after a few days, you can seek further medical advice and possibly get a new prescription.)

Additional warning statements to the approved Product Information for all opioids to remind prescribers of the appropriate circumstances for opioid prescribing and potential adverse effects.

Improved information available to prescribers and consumers to encourage best-practice prescribing and to be better informed about the potential risks with opioid use and how to minimise them.

Updated prescribing 'indications' (the circumstance/s for use) for opioids to ensure patients are prescribed an opioid only where the benefits outweigh the risks.
Products impacted by the regulatory changes include tramadol, tapentadol, codeine, buprenorphine, hydromorphone, morphine, oxycodone and fentanyl.
Modified Release Paracetamol (such as Panadol Osteo®) can still be purchased from a pharmacy without a prescription but this product will only be available over the counter.
What Do the New Opioid Regulations Mean for People With Chronic Pain?
The regulatory changes will not lead to a ban on prescribing opioids to any category of patient if ongoing use is considered to be clinically appropriate. You can still be prescribed the same opioids you currently take with the same pack sizes you currently receive. You can also still get prescription repeats, providing the new prescription requirements are met.
To be eligible for treatment with certain high-strength opioids such as morphine and fentanyl under the Pharmaceutical Benefits Scheme (PBS), you will need to be unresponsive or intolerant to other medications or treatments or have achieved inadequate relief of acute pain to the maximum tolerated doses of non-opioid treatments.
What Will Happen at my Appointments for Pain Medication?
The main difference you'll notice is that, if your opioid use exceeds or is expected to exceed 12 months, you must also be referred to a pain specialist or alternative prescriber for clinical review. The date of the review and name of the medical practitioner consulted must now be provided for every authority application.
The changes are designed to encourage prescribers to reflect on their opioid prescribing practice. They can now access more information and resources to help inform their treatment practices when helping a person living with intense pain. Above all, they need to ensure they have a conversation with their patient about the risks and benefits of using opioids to manage pain. They should include a range of other medical and non-medical treatment options as part of this conversation.
The TGA has also issued new prescribing guidelines for health professionals to align with the regulation changes. Some of the points raised in these guidelines include:
For people who are gaining little benefit from opioids or who are experiencing harm, prescribers will be encouraged to work in partnership with patients to safely taper the opioid treatment over time to either stop the opioid medicine or ensure the lowest effective dose is used to effectively treat their pain while minimising the risk of side effects.

Many people who taper to the lowest effective dose find that their lives improve. They can think more clearly and are more alert. Some people find their mobility is better and they are steadier on their feet. Less reliance on medication reduces trips to the pharmacy and may save money.

Non-pharmacological treatments should be trialled first and, where pain programs are accessible, these can be a good way of accessing tailored treatment that considers the individual as a whole person.
What Else do I Need to Know?
It is important that you do not make any changes to your current medication plan without first consulting your treating doctor. Rapid opioid dose reduction poses risks including more severe pain and neuro-psychological effects. Tapering your dose down slowly allows your body time to adjust and allows you time to introduce alternative pain-management strategies if appropriate.
Be open to new possibilities including self-management techniques to be used alongside or instead of opioids for your pain. Even some approaches (such as yoga, tai chi or meditation) that haven't worked for you in the past might work better for you now in different circumstances. For example, there are many different forms and levels of yoga so consider trying a few different classes or sessions before ruling it out.
Having said that, exercise and other complementary treatments will not "cure" arthritis, so you may need to continue to take your other medications, such as disease-modifying antirheumatic drugs (DMARDs) to manage your underlying condition in the long term.
How to Speak up for Yourself in a Medical Appointment
The TGA guidelines clearly state that prescribers are required to obtain their patient's informed consent when either initiating or varying opioid treatment.
There are some concerns in the patient community that some doctors will take these guidelines too far and may be reluctant to prescribe opioids at all, even for patients that have been taking them responsibly for pain management for years. They may also neglect to suggest alternative pain-management options or to work with the patient to create a customised treatment plan.
(For more information about the concerns, read the interview with Painaustralia CEO Carol Bennett in the recent Retail Pharmacy article The Tension That Comes With Pain.)
Other ways you can ensure your questions and concerns are heard include:
Be prepared for a discussion with your treating doctor (and any other health professional you deal with) about your pain management plan in the coming months. Know what medications you are taking and why you are taking them.

Re-assess your current plan in your own time. Reflect on how long you've been taking your pain medications, how they make you feel and what (if any) side effects they cause. List all the other little things you do each day to manage your pain, such as using heat packs or doing some stretching. Are there some things you could be doing more often? These could all be included in the treatment plan you create with your healthcare team.

Bring up the topic of pain management with your doctor if they don't or if you want more information about any aspect of your plan. They may not realise the current issues you face or how much they affect your daily activities or emotions.

Treat your doctor as an equal partner in your healthcare management and expect them to treat you the same way. They don't always have all the right answers, so give them some leeway.

Don't put up with bullying or being dictated to, either. Respect and communication must work both ways. Change doctors if you need to.

You deserve to have the best healthcare team possible

supporting you.
Keep Reading
Our CreakyJoints Australia website is full of information on how to live well with arthritis so please take the time to explore our site further. You can also register for free membership via our website to receive our regular newsletter in your inbox.
See our new page, Living With Arthritis During COVID-19, for more Australian information on managing your health during the current pandemic.