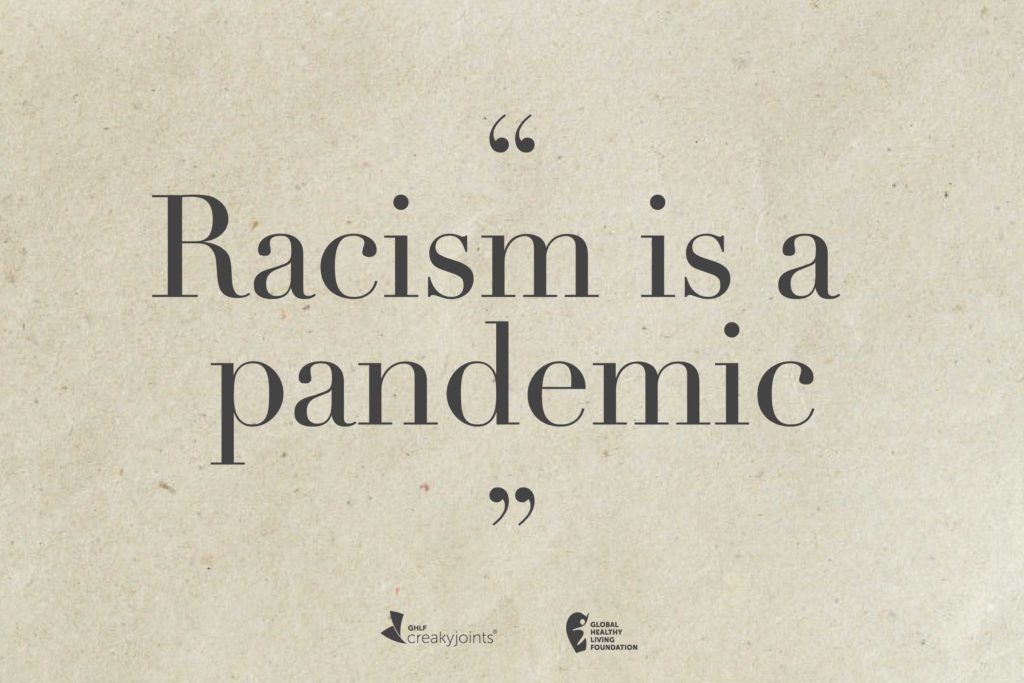 The following statement was recently published by the Global Healthy Living Foundation (GHLF).
Click here to read the original statement and additional resources on the GHLF website.
"As a non-profit organization whose mission is to help people live healthier lives, the Global Healthy Living Foundation and its digital arthritis community, CreakyJoints, supports those who are calling for racial justice in light of the recent and brutal killings of George Floyd, Ahmaud Arbery, and Breonna Taylor as well as all of the victims who came before them. We stand with the nationwide protests that are an expression and culmination of sentiment that refuses to remain silent in the face of systemic institutionalized racism.
As James Baldwin wrote: 'Not everything that is faced can be changed. But nothing can be changed until it is faced.'
GHLF has spoken out against systemic societal inequalities that have infected our institutions and black Americans individually, leading to growing health disparities among other inequities that the COVID-19 pandemic has scathingly exposed. See 'Are People Dying from COVID-19 Because They Are Black in America?' by patient advocate Tinu Abayomi-Paul and an advocacy sign-on to demand more investigation and publicity around COVID-19 health disparities as recent examples.
Now — more than ever — we must speak out against the institutional oppression and systemic disregard for black and brown lives in America.
Silence makes us complicit, and we cannot ignore the injustice that is unfolding before us.
We know that the collective pain and trauma of racism, both overt and silent, is real for people of color in America. Centuries of unequal access to quality education, healthy food, livable wages, health care, and affordable housing — as well as seeing people of color attacked and killed repeatedly, now amplified on social media — has compounded these issues, creating systemic health care disparities.
We believe that racism is also a health care issue. It, too, has become a pandemic. It must stop.
We call on our fellow health care non-profits to join us in exposing and fighting this public health issue."
Keep Reading
See our new page, Living With Arthritis During COVID-19, for more Australian information on managing your health during the current pandemic.