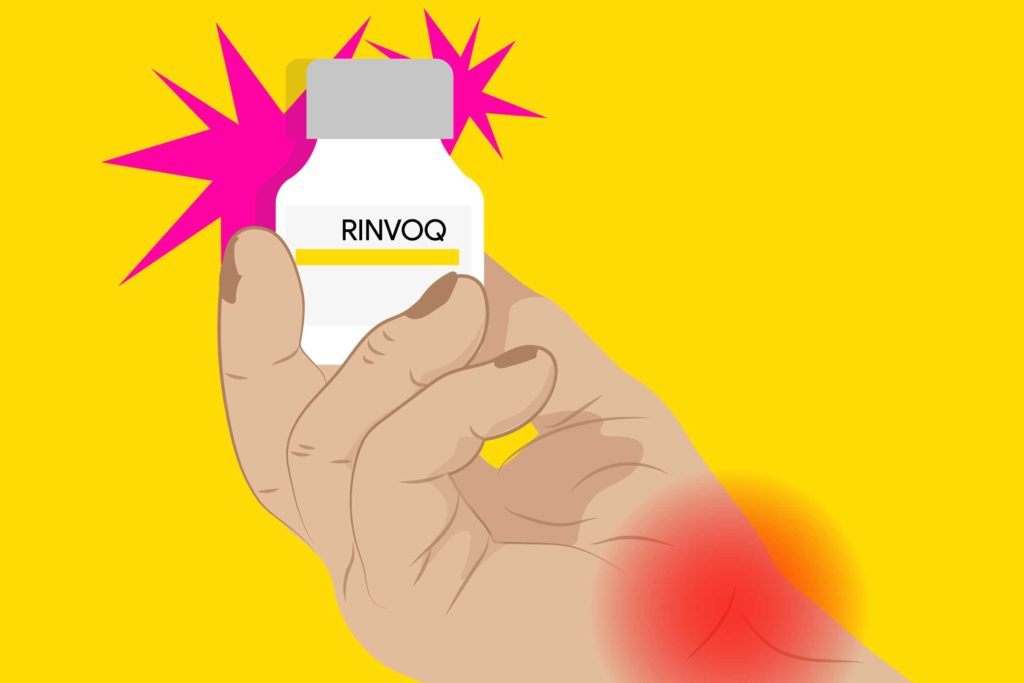 The Australian Federal Government announced today that the medication upadacitinib (Rinvoq®) is now available through the Pharmaceutical Benefits Scheme (PBS) for those diagnosed with rheumatoid arthritis (RA).
What is Rheumatoid Arthritis?
Rheumatoid arthritis is a form of autoimmune inflammatory arthritis that affects about 458,000 Australians.
Autoimmune conditions occur when the immune system overreacts to a trigger, such as a wound or virus, and continues to attack healthy cells long after the initial trigger has gone. Genetics, lifestyle, the environment and other factors can affect the development of autoimmune conditions although the exact causes are not known.
Different autoimmune conditions affect different parts of the body, For example, the skin condition psoriasis involves inflammation and excessive reproduction of skin cells, while rheumatoid arthritis occurs when the synovial membrane that protects and lubricates joints becomes inflamed, causing pain, stiffness, swelling and loss of function in the joints throughout the body. It typically affects the small joints of the hands and feet first and can spread to other joints if left untreated.
Rheumatoid arthritis can strike at any age, although it usually begins between the ages of 40 and 60. It is more common in women than men. Currently, there is no cure, but medications can reduce pain and stiffness and prevent long-term joint damage.
What is Upadacitinib?
Upadacitinib (Rinvoq®) is a type of medication called a JAK inhibitor — a sub-classification of disease modifying antirheumatic drugs (DMARDs). This means it targets a specific part of the immune system and inhibits inflammatory activity.
Upadacitinib is not a biologic medication as it is produced synthetically and is taken orally. However, it is grouped with biologics for ease of processing through the PBS in Australia. The patient must be treated by a rheumatologist or clinical immunologist with expertise in the management of rheumatoid arthritis.
Applications are processed using the same criteria as biologic medications for rheumatoid arthritis. For example, patients must have demonstrated an inadequate response to six months of intensive DMARD treatment including methotrexate (Methoblastin®) and at least one other DMARD agent.
Upadacitinib is prescribed as a 15 mg modified release tablet taken once a day.
What Does This Mean for Australians With Rheumatoid Arthritis?
Two other JAK inhibitors (tofacitinib and baricitinib) are already available on prescription in Australia for rheumatoid arthritis and have provided relief for many people. They are available in tablet form, as opposed to biologic medications (which are infused or injected weekly, fortnightly or monthly), making them an attractive and convenient treatment option.
As each type of RA medication (including JAK inhibitors) affect the immune system in different ways and we all respond to medications differently, it is possible that the available forms don't work (or don't work sufficiently) for some people with rheumatoid arthritis. Having upadacitinib available through the PBS gives doctors and patients a new option to try.
Patients will only pay the subsidised cost of $41 per script (or $6.60 with an approved concession card) instead of the actual cost of $1267.79 per script.
This information should never replace the information and advice from your treating doctors. It is meant to inform the discussion that you have with healthcare professionals, as well as others who play a role in your care and wellbeing.
CreakyJoints Australia encourages everyone with inflammatory arthritis to talk to a rheumatologist about finding the right treatment plan for you. These diseases can still cause underlying damage to your joints, bones and certain organs even if some symptoms improve. Conventional prescription medications are often at the core of treatment due to the strong evidence supporting their success.
Keep Reading