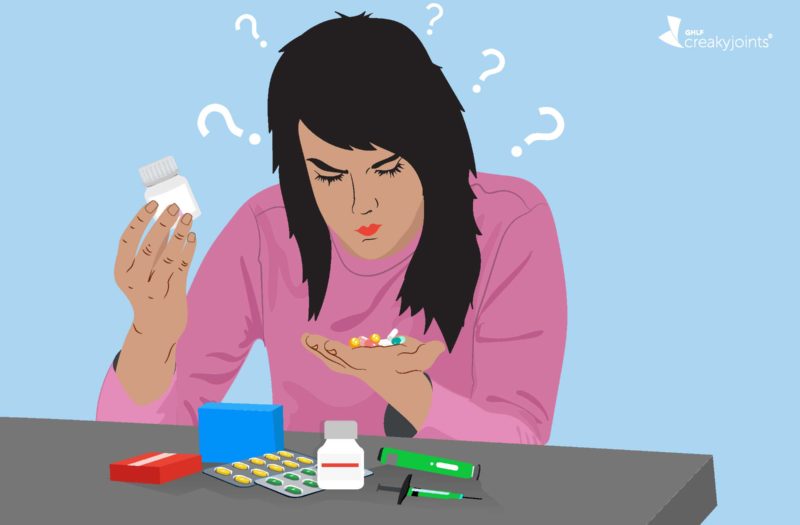 If so, you're not alone. It is one of the top concerns of Australians with chronic health issues right now. This is especially true if you are in the high-risk category for contracting COVID-19.
The good news is that there are already many systems in place to ensure you can access your medications when you need them.
Seeing a Doctor
All Medicare eligible Australians can now receive telehealth services for a wide range of health consultations. These services will remain available to patients until at least 30 September 2020.
(Telehealth services refer to consultations that include both video and telephone links between the patient and practitioner. Text-based discussions, such as emails, cannot be bulk billed.)
The list of health practitioners that can offer telehealth consultations includes, (but is not limited to):
GPs

Specialist medical practitioners (such as rheumatologists, cardiologists and gastrologists)

Nurses practitioners

Obstetricians and midwives

Mental health practitioners (such as psychiatrists, psychologists and social workers)

Selected allied health practitioners (such as physiotherapists, occupational therapists and dieticians)
Video or phone consultations are ideal if you need a repeat prescription but not a physical examination or another face-to-face service such as an injection. If you do need to see your health provider in person this is still an option. Providers always put the health of their patients and staff first and they must all comply with strict COVID-19 hygiene and social distancing guidelines.
It is a good idea to call your clinic beforehand and ask how they are approaching the situation and what options they have available for your appointment.
Getting a Prescription Medication Dispensed
How to get your prescription to your pharmacy
If your medical practitioner can't give you a printed copy of your prescription in person, they can send it to you or your pharmacist electronically via any means.
Most pharmacies already hold prescriptions for their regular customers on file, so the customer does not have to present them in-person. Many now offer a mobile app service so customers can track their own dispensing histories, order more prescription medications (when the script is held on file) and then just go in and pick up their order. 
If you have the prescription, you can post it to your pharmacy or you can scan it or take a photo of it and send it to them electronically, including via their pharmacy app. Contact your pharmacy to ask which method they prefer.
In the event that none of these options are available to you, your pharmacist can dispense one month's supply of your usual medication without a prescription (at the usual PBS consumer co-payment price) if you have previously been prescribed the medication and if they are satisfied you need it urgently.
This emergency measure was introduced as a response to the Australian bushfire crisis. It was due to end on 31 March 2020 but has now been extended to 30 June 2020.
How to get your medication from your pharmacy to you
Most pharmacies already offer a home-delivery service for vulnerable local customers.
A new Home Medicines Service has been established to provide home delivery of Pharmaceutical Benefits Scheme (PBS) and Repatriation Pharmaceutical Benefits Scheme (RPBS) medicines, for vulnerable people and people in isolation due to COVID-19.
The service commenced on 16 March 2020 and will be available for six months.
On 28 March 2020, the Australian Government and Australia Post announced an extension of the Home Medicines Service. The new joint initiative will enable vulnerable members of the community (including those isolating themselves at home on the advice of a medical practitioner, people over 70 and people with chronic health conditions) to receive their prescription medications via Express Post free of charge.
The following restrictions apply:
Each parcel must include a minimum of one PBS item or one RPBS item. Other essential supplies may also be included.

Parcels must be under 500 grams.

You can receive the service no more than once per month. If you want more than one delivery per month, your pharmacy may charge a fee.
If you receive your PBS or RPBS medications in a Dose Administration Aid, you will be eligible for this service.
Your parcel may include medication from any Pharmaceutical Benefits Schedule level. For example, schedule 8 medications such as tofacitinib (used for some forms of inflammatory arthritis). Medications that require refrigeration are not suitable for this service.
Australia Post deliveries can be made to the home, or to a local Post Office or 24/7 Parcel Locker for pick-up. The initiative incorporates Australia Post's contactless delivery in line with current Covid-19 guidelines.
Speak to your pharmacist if you need more information including options for urgent delivery and delivery of medications that require refrigeration. They may have alternative home-delivery options available.
You may also need to speak to your pharmacist about possible generic brand substitutions if your usual brand of medication is not available.
Pharmacies can register with Australia Post and buy the Express Post parcel bags. They will receive the full cost back through a government rebate.
Current Restrictions on Dispensing of Medicines
Despite the panic buying of some medications seen recently around the country, pharmaceutical wholesalers and health authorities are doing their utmost to ensure there is no medication supply shortage due to COVID-19.
However, as pharmacy stocks of some items were recently stripped bare, on 19 March the Therapeutic Goods Administration (TGA) announced new dispensing limits for certain prescription and over-the-counter medications.
This will ensure that everyone will have equal access to their medications.
Under the new restrictions, pharmacists will be required to:
Limit dispensing of certain prescription products to one months' supply at the prescribed dose, and some over-the-counter medications (such as paracetamol and salbutamol) to a maximum of one unit per purchase. 

Be strongly encouraged to limit dispensing of all other medications to one months' supply or one unit.
On 24 March, the TGA announced further restrictions on the types of health professionals authorised to prescribe or dispense two specific medications and on the conditions in which this can occur. These restrictions were necessary to prevent misuse and stockpiling by people intending to use them to prevent or treat COVID-19.
The medications included were: 
Hydroxychloroquine (Plaquenil ®): used for some autoimmune conditions such as

rheumatoid arthritis

and lupus

Salbutamol (Ventolin CFC-Free®, Asmol CFC-Free®):  used for chronic conditions such as asthma and Chronic Obstructive Pulmonary Disease (COPD)
Substitution of Medicines in the Event of a Shortage
The Australian Government is currently rolling out changes to allow community pharmacists to substitute dose strengths or forms of medications without prior approval from the prescribing doctor, if a medication is unavailable at the time of dispensing.
These changes will help patients receive their necessary medications as soon as possible and reduce the need to see a doctor for a new prescription.
Advice For Patients on Immune-Suppressing Medications
Many readers of this site have autoimmune conditions such as rheumatoid arthritis, ankylosing spondylitis, psoriatic arthritis or lupus. Those with these conditions are already in the high-risk category for COVID-19. On top of that, some of the medications used to treat these conditions are designed to suppress overactive immune systems.
The Australian Rheumatology Association (ARA) released a statement on 26 March 2020 advising people in this situation not to stop their current treatments without consulting their treating doctor. Stopping medications suddenly can cause other complications and lead to more frequent flares.
According to the statement, "There is no evidence to suggest that WELL patients, without fever or signs of infection should change or stop any of their regular prescribed medications."
This includes:
The ARA statement also notes:
"The COVID-19 pandemic may last months, so if you stop your medicine you may have a flare and need to restart or have to take more intensive treatment with steroids. We do not recommend stopping your rheumatology medication. Do not stop steroids suddenly or you may become very unwell."
If you do feel unwell, phone your treating doctor's office and arrange an appointment as soon as possible. Be sure to tell them you are in the high-risk category and that you take medications that affect your immune system.
Note: This information should never replace the information and advice from your treating doctors. It is meant to inform the discussion that you have with healthcare professionals, as well as others who play a role in your care and wellbeing.
If you have general questions related to COVID-19, contact the Australian Government Department of Health: Coronavirus Health Information Line 1800 020 080
This post includes information outlined in the media release Ensuring continued access to medicines during the COVID-19 pandemic published by the Australian Government Department of Health on 31 March 2020.
Keep Reading